Want a paint color that is striking and sophisticated and also exudes timeless elegance? Say hello to Urbane Bronze by Sherwin Williams. After sampling many colors, we knew that this color would be PERFECT for our basement bar makeover for many reasons which we highlight in this blog. This gorgeous color is everything we had hoped and more!
Add a header to begin generating the table of contents
Urbane Bronze by Sherwin Williams Description
This rich, deep hue from Sherwin Williams captures the essence of urban charm and exudes a sense of warmth and comfort, making it an excellent choice for various interior and exterior applications. Its complex blend of brown and gray undertones creates a versatile shade that complements both modern and traditional design styles. Urbane Bronze infuses spaces with a cozy and intimate atmosphere while maintaining a sense of refinement. Whether used on walls, cabinetry, or as an accent color, this captivating hue adds depth and character to any room, making it a popular choice for those seeking a touch of understated luxury.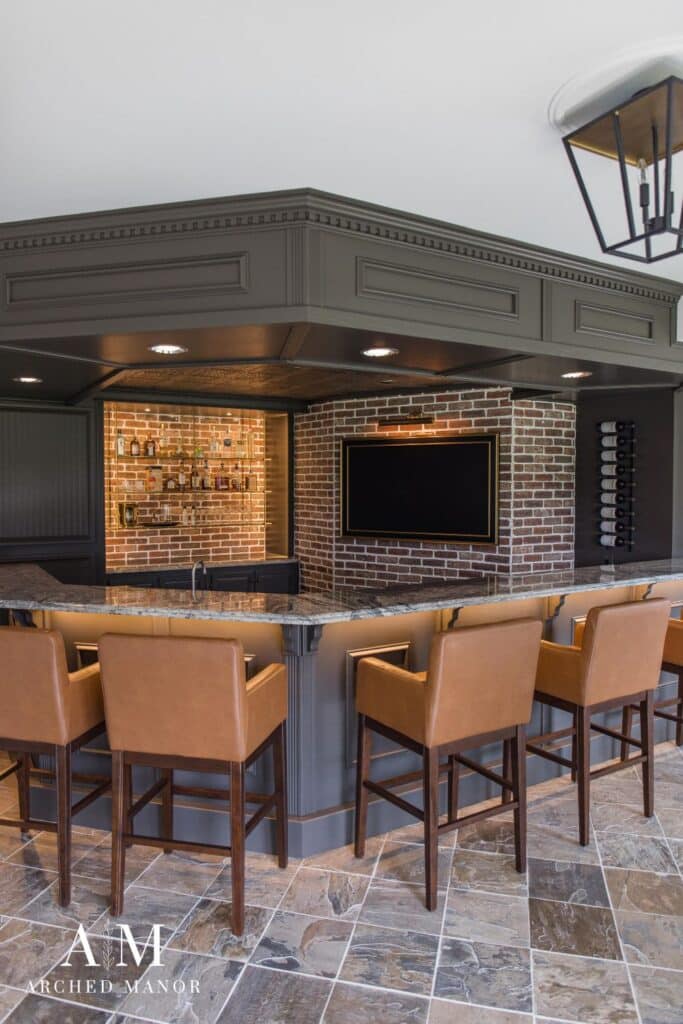 The paint color Urbane Bronze by Sherwin Williams showcases a captivating interplay of undertones that contributes to its unique and alluring appeal. Predominantly a deep, rich brown shade, Urbane Bronze also contains subtle undertones of gray and green. These undertones lend depth and complexity to the color, allowing it to shift slightly depending on the lighting and surrounding decor.
The hint of gray adds a touch of modernity, while the faint green undertones infuse a sense of natural harmony, evoking images of earthy landscapes. The intermingling of these tones results in a versatile hue that can complement a wide range of design styles, from contemporary to rustic, providing a dynamic canvas for creating inviting and visually stunning spaces.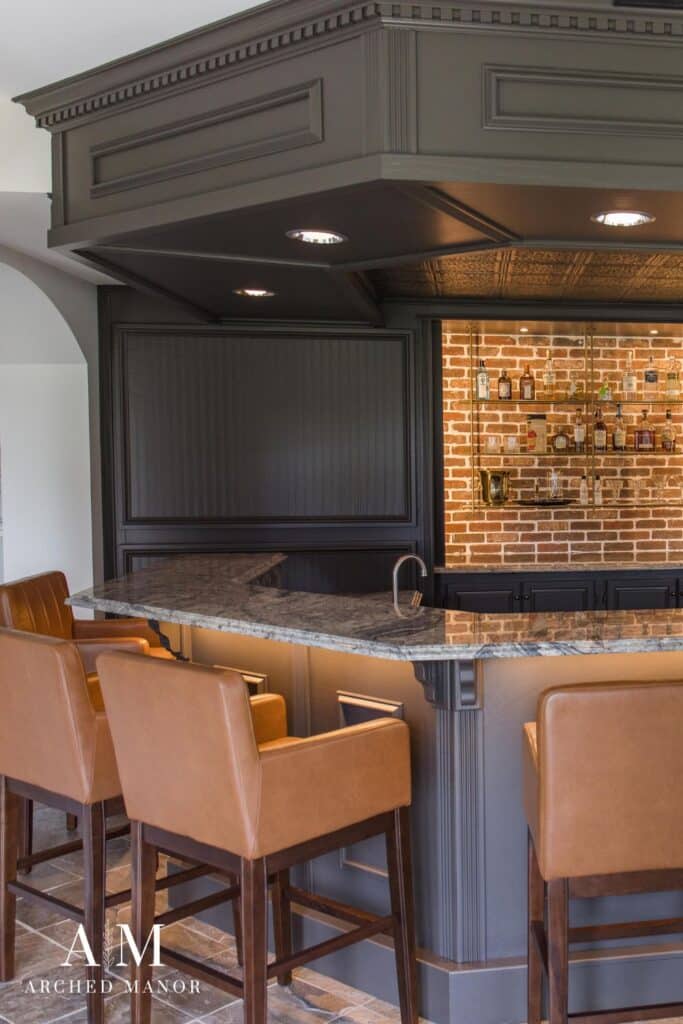 The Light Reflectance Value (LRV) of Urbane Bronze by Sherwin Williams is approximately 8. This low LRV indicates that Urbane Bronze is a deeply saturated and dark color, absorbing more light than it reflects. As a result, it creates a cozy and intimate atmosphere, making it an excellent choice for spaces where a sense of warmth and richness is desired. While it may not be suitable for rooms with limited natural light, it can add depth and character to well-lit areas, providing a striking contrast when paired with lighter colors or neutrals. Its alluring LRV contributes to the paint color's timeless elegance and versatility in various interior and exterior applications.
Where is Urbane Bronze Best Used?
Urbane Bronze, with its captivating and versatile nature, finds its ideal application in a myriad of spaces, adding a touch of sophistication and warmth. This rich and deep hue is best used in areas where a sense of intimacy and coziness is desired. 
In living rooms and bedrooms, Urbane Bronze creates a luxurious and inviting atmosphere, making it an excellent choice for accent walls or as the primary color for a richly layered interior. Its elegance also extends to kitchen and bathroom cabinetry, lending a touch of refinement to these functional spaces. 
Additionally, Urbane Bronze can be used to transform exteriors, offering a striking and modern look to front doors or window trims. Whether in contemporary or traditional settings, this paint color elevates the ambiance and complements a wide range of decor styles, making it an exquisite choice for anyone seeking to infuse their spaces with timeless charm.
Best Paint Colors to Complement Urbane Bronze
Urbane Bronze is a versatile color that pairs well with a variety of Sherwin Williams paint colors, creating stunning and harmonious color schemes. Here are some complementary Sherwin Williams paint colors that work beautifully with Urbane Bronze:
These are just a few examples of Sherwin Williams paint colors that can complement Urbane Bronze, but there are many other options to explore depending on the specific mood and style you want to achieve in your space. It's always a good idea to test paint swatches and see how the colors interact under different lighting conditions before making a final decision.
Tips Before Using Urbane Bronze by Sherwin Williams
It is always recommended that you sample the color in your space before painting it in its entirety. Make sure to paint samples on at least two different walls in your room because the light will hit them differently. Also, it is important to examine a sample for at least 24 hours so you can see what the color looks like at different times of the day. 
For more tips when it comes to painting a room, check out this blog post "DIY Painting tips to save you time and money". Also, for all the paint colors we have used in our home, check out this post!