It can be confusing when trying to find the best rug size for a queen bed. If it is too small you will barely be able to see it and if it is too big, the scale will be off and your bed will look tiny.
Before you decide on a size or style rug to go with, take note of not only the bed size, but a few other factors as well – How big is the overall bedroom? What other furniture will you have in the space (i.e. nightstands, dressers, bench, etc.)?
Add a header to begin generating the table of contents
Things to Consider When Choosing a Rug Size for a Queen Bed
I think the perfect place to start is to first mention the dimensions of a standard queen bed – 60"W by 80"L (5' by 6'8"). A great rule of thumb when it comes to choosing a rug size is to have at least 18 – 24 inches of the rug exposed on each side of the bed. It is also important to note that typically a rug is placed perpendicular to the bed, not parallel. 
Also, another factor is deciding whether or not you want the rug to be under, right in front of, or a short distance away from your nightstands. 
I'm a visual person, so if you are like me, seeing a birdseye view of the bed and rug is extremely helpful! Now let's take a look below at different rug sizes for a queen bed.
How a Queen Bed with a 5x8 Rug Looks
A 5×8 area rug is great for a smaller bedroom. Just remember to have enough of the rug exposed at the end of the bed to give it balance. This means that there will be a little more space between the edge of the rug and the front of the nightstands.  Also, I don't recommend a rug size for a queen bed smaller than 5×8 since most of it would be covered. 
How a Queen Bed with a 6x9 Rug Looks
A great rug size for a queen bed is a 6×9 area rug. This allows for a 24″ landing on either side of the bed and a fair amount exposed at the end of the bed. Also, 6×9 rugs tend to be more affordable than larger sized area rugs.
How a Queen Bed with an 8x10 Rug Looks
What's the Best Rug Size for a Queen Bed?
Having looked at the images above, which one do you think is best for a queen bed? There is no wrong answer because, as mentioned above, it can depend on the size of your room and other variables. However, we think the best rug size for a queen bed (if your room is big enough) is an 8×10 area rug. It allows for more exposure on three sides of the bed and scales nicely with the dimensions of the bed!
We used an 8×10 rug in our guest bedroom that has a queen sized bed and are so happy with how it looks!
Favorite Place to Purchase Area Rugs
Rugs have really come a long way and fortunately, there are so many wonderful options now in every price point. Here are some of our favorite places to purchase rugs: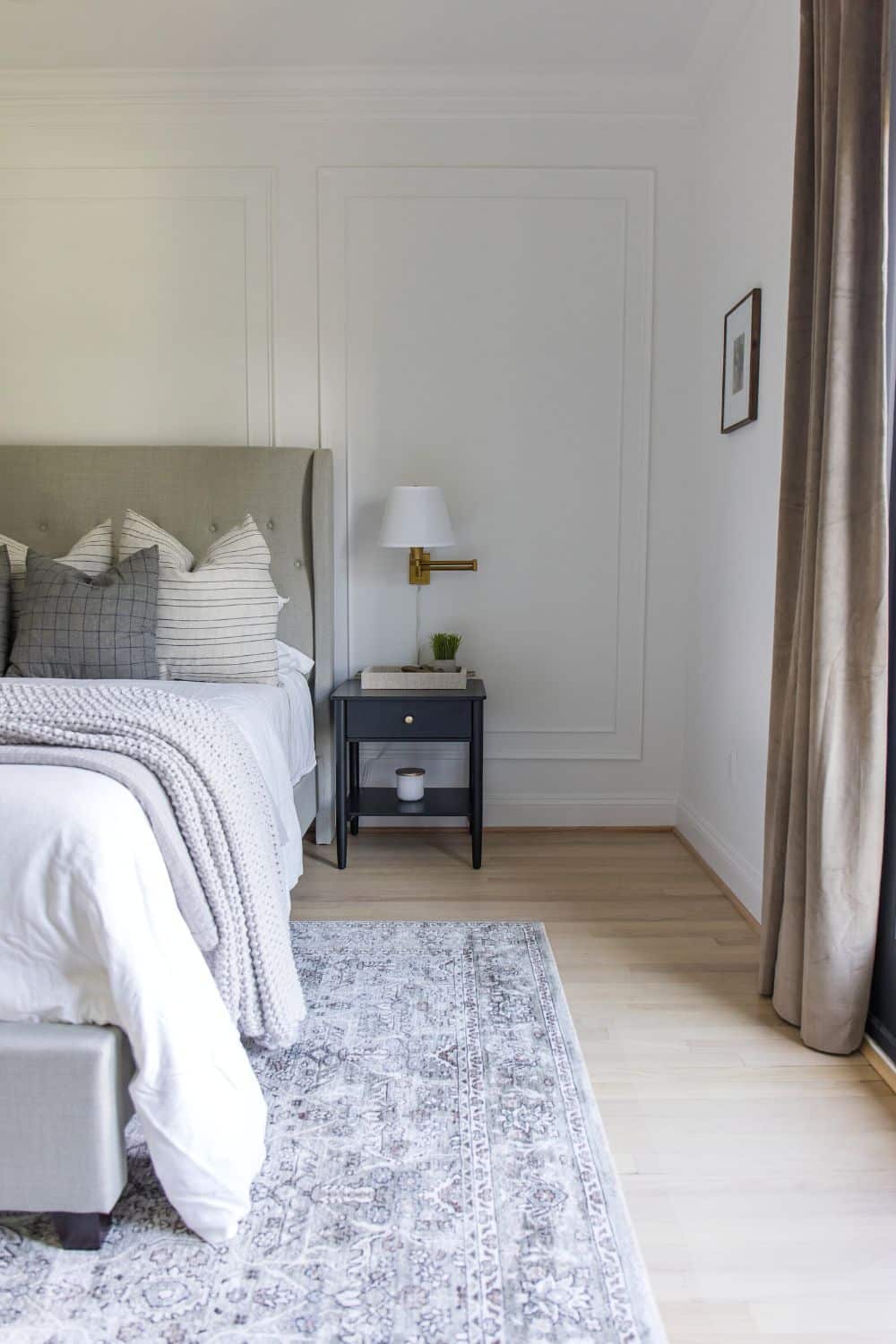 Can I put fake plants outside?
You can absolutely put fake plants outside! Just be mindful of whether or not they are UV resistant to increase their lifespan.
Can you use faux flowers outside?
Faux flowers can definitely be used outside. Keep in mind the material of the artificial flowers you choose. Silk flowers will not last as long as faux flowers made out of other materials.
How do you decorate with fake boxwood balls?
Add faux boxwood balls to planters to give your porch, patio or outdoor a timeless look!
How long do artificial plants last?
The length of time an artificial plant will last depends on where it is located and also what climate or elements it is exposed to. Check out our tips above to increase the longevity of your faux outdoor plants.
Can you put artificial boxwood outside?
Boxwoods are one of the most common faux outdoor plants. You can find several styles of artificial outdoor boxwoods including balls, shrubs, topiaries and even hedges.
Is it tacky to put fake plants outside?
If you live in a climate or have an outdoor space where it is hard to maintain plants or if you are not home as much and are unable to take care of your plants, then artificial plants are a great option to give your outdoor spaces some life. To keep your fake plants from looking tacky, make sure you buy more realistic and UV resistant plants.