It has officially been one year since I left my full-time corporate role as a Senior Marketing Manager and started my self-employment journey. There have been many ups and downs and I have learned so much about myself and about building a business. I have never worked harder in my life, but at the same time, it (for the most part) doesn't really feel like work because I have enjoyed it so much.
Leaving the corporate world to pursue your passion is an all-too-common story we hear about often, but when it's YOU who are actually doing it, it can be a scary and stressful time in your life.  Thankfully, I have had some tremendous support from family, friends, and our social followers, and I'm truly grateful for it.
If you are looking to follow your passions and build something on your own, here are 5 things I have learned in my self-employment journey that may help you in yours.
Add a header to begin generating the table of contents
1. Every Dollar Earned in Self-Employment is Worth More Than Before
When you don't have a steady, guaranteed salary coming in each month, and you are able to earn income, it is celebrated and appreciated in a way that it wasn't before. Not only financially, but earning money for something that you (and maybe a partner) built yourself and are passionate about means so much more.
However, the unpredictable income that comes with self-employment has been by far the biggest adjustment for me. I am not a risk taker and not having a set amount deposited in my bank account every month is still something I'm getting used to, especially for someone who likes to maintain a nice level of financial security. 
How I spend money and what I spend money on has changed in the last year. When building a business, all the disposable income that I used to spend on material things (eating out, clothes, home decor, etc.) is now being invested back into Arched Manor. A new software that will help scale, an assistant to help check things off the to-do list, or saving a chunk to put towards an upcoming home renovation project (more content!) are all ways I invest money back into the business.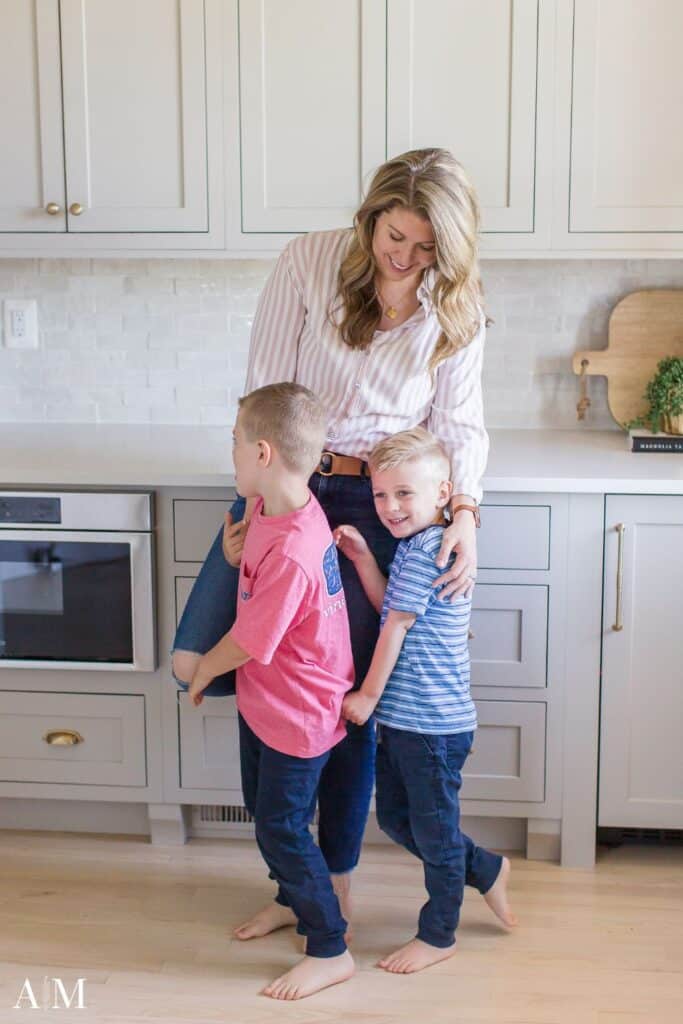 I have always been decent at time management, especially since becoming a mother, but how I manage my time during working hours has definitely changed in the last year of self-employment.  When owning your own business, there are so many hats to wear and it can feel overwhelming at times. 
Trying to balance working with clients, writing blogs, scripting YouTube videos, recording and editing videos, editing photos, designing mood boards, brand negotiations, working on our own DIY projects and all the small little tasks that come with each of those activities can be tough, but absolutely doable.
I am still working on what my weekly schedule looks like, but I have found batch scheduling to be helpful – each day I work on 1 or 2 tasks (ex. writing or editing) so that I can stay more focused on that task and accomplish more. At the same time, I have also learned to be flexible and ready to pivot. 
4 Setting Self-Employment Goals
In my previous corporate role I always felt like goals were just another task to complete or a way for a company to show that they cared about culture, yet no one ever took them seriously or followed up to check if they were complete (or even started).  There were no rewards or incentives offered if they were completed, so employees (myself included) did not feel a tremendous drive to get them done.
With that negative experience, goal setting was not really on my mind at this time last year when I went full time with Arched Manor. However I quickly learned how beneficial short-term and long-term goals are when you are trying to build a business.
Short-term goals are great to keep the drive going, especially because I am driven by instant gratification. However, long-term goals are important to see the "big picture" when it comes to completing the stepping stones to where you want your business and brand to ultimately be.  I am a big believer in visualizing and manifestation.
5. Progress Over Perfection
To be honest, this is something I have worked on for the past decade, but have definitely had to remind myself of over the past year. It is easy to get caught up in the "comparison game" and always question if you are doing enough. However, with creating content specifically, I have continually found that if you just start doing something and keep practicing and producing, it not only gets easier, but you can tweak it until you are eventually creating things that you initially envisioned.
Don't be afraid to publish some "just okay" videos or photos, what matters is consistency and practice, and I promise they will get better.
I asked you all on Instagram if you have any questions about what it is I do, if I have any advice, etc. and these were some of the common questions I received:
Q: What do you do?
A: This is a great question to start off with – haha! John and I have worked hard to diversify our income with Arched Manor, so we both do a lot! I could easily list 100 things that we do for Arched Manor, but to simplify, I'll just talk about how the business earns income (and in no particular order).  
Design Services: We have worked with some awesome clients who needed help designing their spaces and we have enjoyed it so much. We offer eDesign services, kitchen design, and consultations.  
3-D Rendering: John is a master at SketchUp and has used these skills for our design work, but has also worked for designers and professionals to create 3-D renders of interior and exterior spaces!

Blog: When visitors access our website and read our blog posts, they are shown ads on the page.  Each time an ad is shown, we make a tiny amount of money, but as they say, it can "add up".  So writing engaging content and driving more people to our site means that we will increase our ad revenue.  

Brand Partnerships: We earn money by working with brands on different content items (posts, reels, stories, blog posts, photos, etc.). 

Affiliate Links: Sharing affiliate links to products we own and/or love is another way we generate revenue! For example, if you click on a link in our Instagram stories that features a product, and you end up buying that product, we get a small portion of that sale.  

Courses: John recently created a course for teaching SketchUp to Interior Designers. It's called FOCUSED SketchUp for Interior Designers and it launched in the summer of 2022.  
Q: How did you learn design? Was it formal education or self taught?
A: No formal training, I just love interiors (it's a passion) and ever since John and I had our first house together and began working on projects, our love for it has grown!
It started out with friends and families asking us for advice, which transitioned into us creating our Instagram account for our current home (to keep us accountable on our renovations), which led to us blogging, offering services to the public, and creating content for our social networks and ultimately led me to self-employment! 
Q: When working with brands and products, what is the difference between paid partnerships, Ads, affiliated links and more?
A: For brands, there is not really a difference between paid partnerships and ads. They pay you to create content and share/promote. Sometimes it may say "gifted" and that means that they just gave you the product but did not pay you an additional fee on top of it.
Affiliate links are separate from brands and that means that you get a commission of every product that has been purchased when you promote it (this can range anywhere from 1%-15% typically).
Q: What is the one thing that gives you the "I can do this" attitude?
A: This is a two part answer. The first is having a supportive partner. John has pushed me to follow my passion and has been so supportive to take that leap of faith and try to do this full time self-employment thing.
The second is the opportunity to create and share things! John always jokes that I am a professional "hype person" because there is nothing I love more than discovering a new find and sharing it, or learning a new skill and teaching it. 
Q: I have been wanting to start a home decor account and work toward self-employment, but don't know where to start.
A: The first step is to create an account on a social network and just start sharing! Post photos, make reels, share your decor and go from there!
Q: What will you do when your house is done?
A: It is going to be a long time until this house is done! We have big plans for this house and will need to keep building the business-side of Arched Manor so we can fuel all these ideas we have! We would also love to flip (or rehab as they say now) a house that needs some TLC.