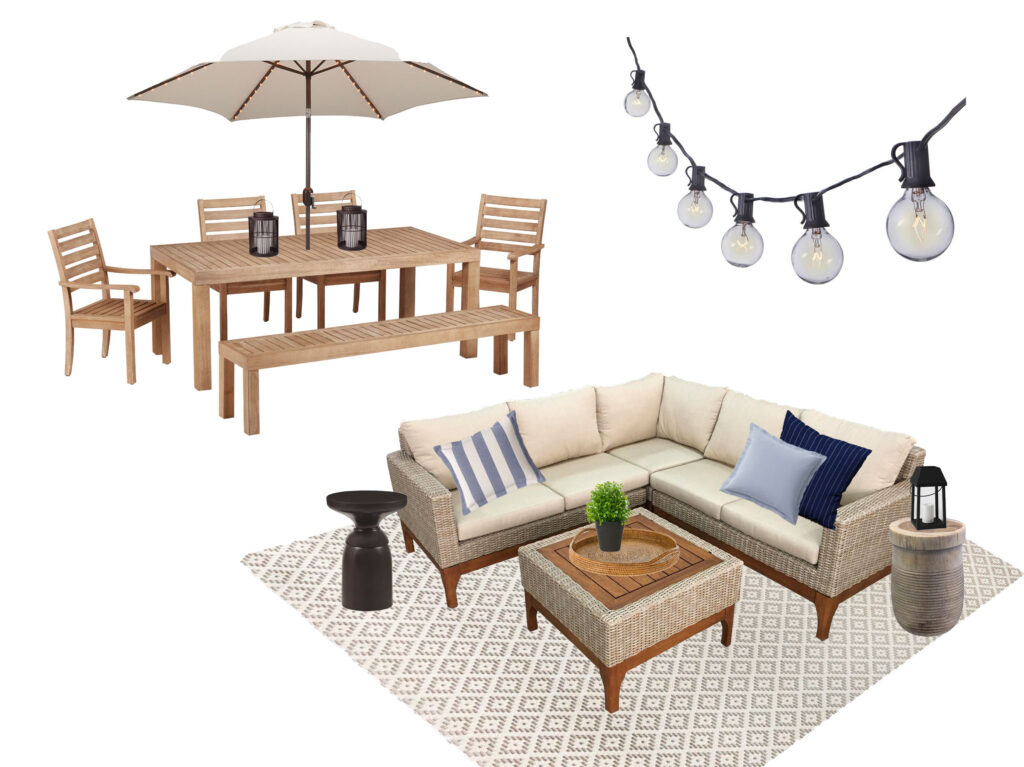 With the weather getting warmer, it's time to give your outdoor space a refresh! Decorate it now so that you can enjoy it all spring, summer and fall. This neutral design features pops of blue, green, black, and natural wood, and would look great on any outdoor patio or pool deck.
When shopping, consider the below tips to help you build the perfect outdoor space:
For the table, make sure it has a pre-cut umbrella hole in the center. Many don't, and this could be a costly mistake, unless you space does not require an umbrella (covered patio, etc.).
If you are purchasing an umbrella, consider buying a tilted umbrella to give more coverage as the sun rises or sets.
When shopping for a sectional, this is one piece you may want to splurge on – you get what you pay for. Less expensive products do not stand up well to the elements and are hard to clean (or keep clean). We have power-washed our sectional many times and the fabric still looks brand new.
Be mindful of the scale of the sectional or table when buying online. Most of the pictures on the website are renderings or photoshopped and the items may appear larger then they really are. Don't be afraid to lay down tape to see how the pieces will fit in your outdoor patio.
If you enjoyed this mood board, make sure to check out more on our blog, or subscribe today to have them delivered to your inbox!
---
Disclosure: We are happy to share products and links with you! Some of the links in this post are affiliate links and if you use them to make a purchase, we may earn a small commission on the sale. This helps us fund the reoccurring fees and expenses that go along with running a blog site.
---
Shop this mood board: