We had loosely heard of Yardzen a couple years ago and knew it was an up-and-coming service that provides 3D renderings and ideas for landscape design. It wasn't until we read this blog post from Chris Loves Julia that we really took notice. For those of you who don't know Chris Loves Julia, they are a family that has a home renovation and decor blog and their most recent home project is a brick colonial similar to The Arched Manor.  They used Yardzen for their backyard landscape project and we were impressed with what they created. 
Add a header to begin generating the table of contents
Yardzen is the online landscape design platform that assigns a landscape designer to create a custom landscape design to match your style and your properties unique characteristics.   
As a company that offers e-Design services for interiors, we know how challenging the process can be, so we were very curious to see how Yardzen handled the various stages of the process and presented their ideas for landscape design using their collaborative website (spoiler alert – the process is excellent!). 
Why We Chose a Yardzen Package
At our core, we are both planners, and having a master landscape plan for our yard is something we really wanted before tackling any large yard projects. This was important to us to make sure in the long term we weren't wasting time and money doing projects that would eventually have to be taken down or torn out.
We had a couple local landscape design companies out to the house to talk about a master plan and discuss their design process. We actually really liked the companies that came out – they were very knowledgeable and were very well respected in our area for landscape design. However, the cost to get a master plan completed with renderings was way outside our budget. Let's be transparent and just come out with it – they ranged from 6K to 20K…just for the plan! And no, that would not be credited back if we chose to go forward and build. 
Compared to the cost of those packages, the Yardzen service seemed like a no-brainer. They offer various packages that can include just the yard, or the home exterior as well.  We went with the Outdoor Transformation Package that included everything – and with that our landscape master plan was born! 
The Yardzen Design Process
One thing Yardzen has down to a T is their design process and below we are going to highlight each step. On their website they label four steps (share your vision, design, design revision, build), but we broke those down further into eight steps. Once you purchase a package, they set you up on their website with a project space where you upload information and collaborate with your design team. 
Step 1: Information Gathering
This step was one of the most time consuming step of the overall design process. They guide you through a series of questions to define your style and your requirements for your yard. It's here that they also ask for your budget, if you are plan to phase your project out, and to load pictures of each side of your property.  They give you comment blocks on each picture where you can specify details about what to keep, remove, etc.  This comment feature was extremely helpful in conveying our wants/desires to Yardzen for the initial design concept. Here are a few of the pictures we loaded into their site for their design team to help them come up with ideas for our landscape design:
There is also a section to upload inspirational pictures and provide comments on what you like and don't like about each. One drawback was that you are limited on the amount of inspirational images you can upload, and the comments textblock is limited to a certain amount of characters, so squeezing your thoughts into a sentence or two was a bit challenging. 
This step took us about 8 hours that spanned over 12 days, but it's definitely the most important step, as this is the foundation to convey your vision for what you want your design to be. 
Step 2: Initial Design Concept
Four days later, we received an email stating our house model was ready. The house model shows a basic 3D model of your property (to scale, as best they can estimate) and house.  This is viewed on their portal and you can make comments on each image to note what needs to be changed. We only had a few modifications, and once those were entered we submitted our feedback and waited for the next step. Below is the house model they provided – pretty impressive for just looking at pictures (no blueprints)!
Step 3: Review and Comment on Ideas for Landscape Design Presented
We received the next email only 10 days later, and our initial designs were ready to view in their portal. We quickly logged in and were really impressed with the ideas for landscape design they presented! The site is very slick – it allows you to click anywhere in the image and add a tag to say you like it, you want to modify it, or you want to remove it.  
This step took a bit of time as well – the more you look through the designs the more things you think of and want to tweak.  One thing they do convey as well, is that you can email their design team in addition to the tagging. We found this to be a handy companion to the photo tagging feature.  For example, we emailed a link to a Pinterest board that had the pool house designs we wanted to mimic.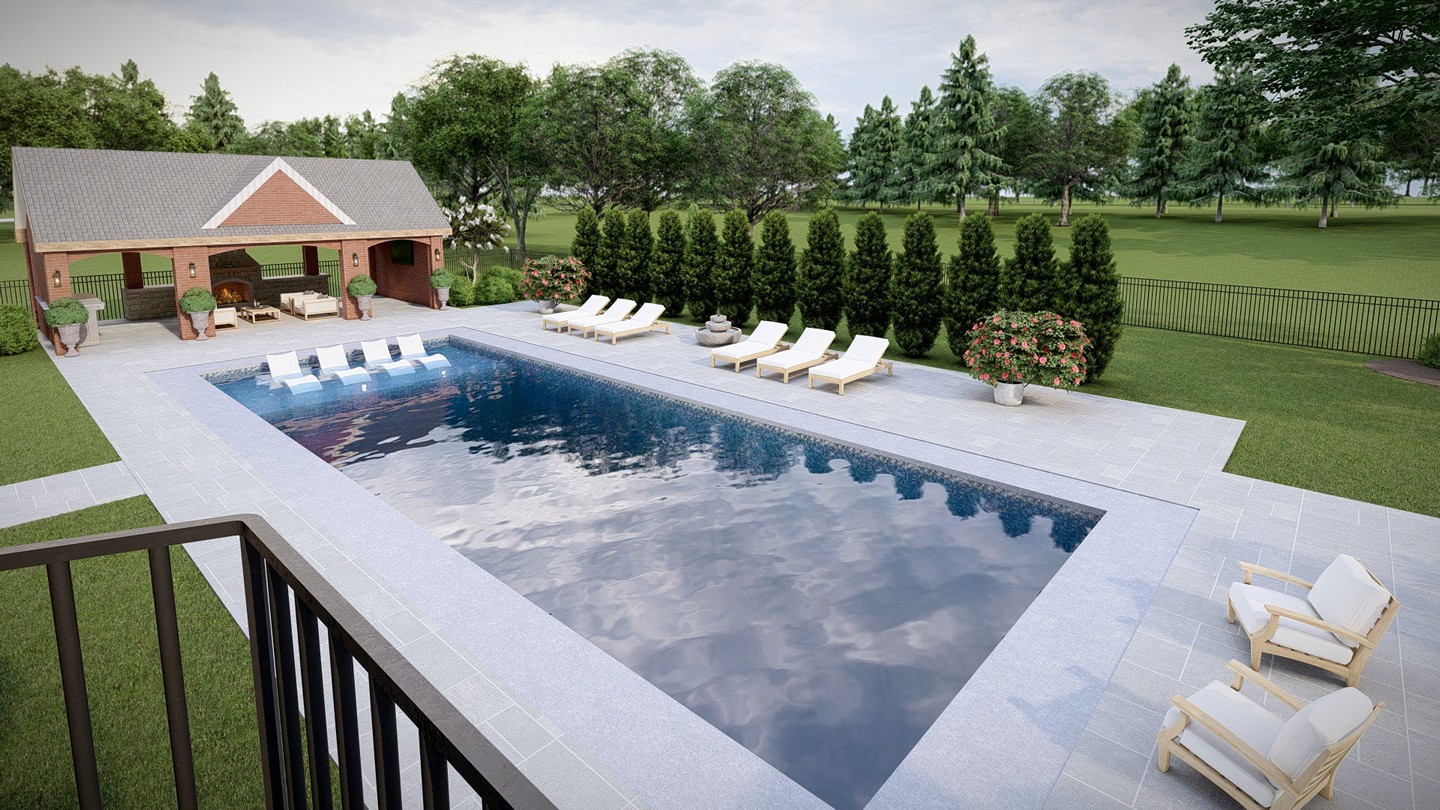 For our design, we removed some of the trees against the house – we had these here when we moved in and they blocked the view from the windows.  We also changed the pool house location to be on the left side of the backyard and increased the size of the pool (see pictures above). There were other minor changes like changing a gravel path to a hardscape, replacing some ferns with more formal plants, moving the grill area out of the pool house, etc. 
Step 4: Final Design Review
Getting the emails with the subject "Your Yardzen Designs are Ready" really brighten your day! The final design looked great – the pool house was moved, the other items were cleaned up, and the renders looked awesome!  
Step 5: Additional Changes and Revisions
While most of the comments we made earlier were addressed, there were a couple that were not addressed in the final round. Also, some of the changes made needed further revisions and the indication from the Yardzen emails was that the final ideas for landscape design were final. We emailed the design team and they were very responsive and scheduled a zoom session for us and a member of their design team. 
The zoom session went great – We went through the items that were not addressed in the revision round and he noted everything image by image.  we even pointed out some of the other touch-up items we wanted to see (like straightening the pool house and patio to be centered with the pool) and was very positive and receptive to all our comments.  
Step 6: Final Plans and Documents
The final package can be downloaded to your computer and it contains all the renders and a few other goodies like an architectural drawing of the design, and multiple planting diagrams.  These are extremely helpful as you get quotes for your project or for HOA approval packets. 
Step 7: Start Playing the Lotto
This is unevitable – you are going to get your plans back from Yardzen and fall in love, and want to immediately do everything. The only problem is that most people (including us) can't afford to do everything at once.  But play that lotto a few times – you never know if it could be you!  
But this is part of the appeal of Yardzen – they give you a master plan that you can phase over time.  There is nothing worse than having to rip something out that you just installed a couple years ago, not knowing the "grand plan" for your yard. 
Step 8: Build Your Design (Optional)
One of the drawbacks (before Yardzen) of online design services was that once you got your awesome design, what are you supposed to do with it? How much is this going to cost? To solve this problem, Yardzen has created their ProNetwork – a list of vetted landscape contractors across the US that they will match you with.  There is no obligation to use the contractor they suggest. 
Yardzen does not manage any part of the construction/build activities, but they do remain available if you or your contractor need to make any changes or revisions to the plan. This is something we can't really review at the moment, but it's nice to know this is available and that all cords are not cut with Yardzen once the final plans are delivered.   
For us, we are going to sit tight for a year or two and let the dust settle from our other projects (dining room renovation, office renovation, etc.).  We will probably start off small with either the family entrance area or the new plantings around the front of the house.  
How Long Does Yardzen Take?
For us, it took 94 days from when we purchased the package to receiving the final designs. BUT, the duration depends on many factors and may be less for you. With our busy schedules, we had a hard time getting the photos/information to Yardzen (took us two weeks) and lagged in getting revision comments back to them (took us another two weeks).   
We also had an additional round of revisions that we needed, and there was a delay in scheduling a zoom session with the Designer to discuss those changes.  So theoretically, if we were more responsive on our end and only needed one revision, the process could have taken about 30-45 days.  We were not in a rush to get these done, and we were very pleased with the communication and updates from Yardzen along the way. 
Below is a visual timeline of events for our Yardzen design: 
Visual Timeline of Events for our Yardzen Design
Submitted all photos and material to Yardzen
House model ready to review
Submitted revision comments on house model to Yardzen
Initial design ready for review
Submitted revisions on initial design to Yardzen
Updated design ready for review
Emailed Yardzen to find out if more revisions can be done
Scheduled Zoom session for May 10
Zoom session with Designer
Final design ready for review
The Final Images of our Yardzen Design
Before we share our overall consensus of Yardzen in the next section, we want to show some of the beautiful renders and ideas for landscape design they provided!
Let's get down to brass tacks – Yardzen is a solid "bang-for-your-buck" product. The customer service was top-notch during every step of the process and their final product did not disappoint. 
Let's talk about the pros and cons from our Yardzen experience:
NOTE: Yardzen is already aware of these issues and is working to correct them!
Should You Use Yardzen for Your Yard?
Yes! The pros outweighed the cons (which were minor) and the quality of work provided for the relatively low price (compared to traditional landscape design companies) is amazing!  We never felt neglected or received any pushback during the design process and we were very impressed with the quality (and quantity) of 3-D renders that were provided.  
So if you are on the fence about using Yardzen, we recommend you go for it!
Frequently Asked Questions
Yardzen is a virtual landscape design service that will take pictures and measurements from your yard and provide a quality landscape design with 3-D renders. Everything is done through their online portal and the transition from step to step is very smooth and straightforward. You have one round of revisions with your package and once the final designs are delivered, you have the option to build using one of their contractors in their ProNetwork.
How much does Yardzen cost?
At the time of this writing, Yardzen packages range in price from $649 to $5095 USD and it depends on the type of design you need (just plants, full yard, etc.) and the size of your property.  
You first decide on a package on their site, place the order, and they will create an account for you to start submitting all of your information (photos, aerial shots, measurements, inspirational, etc.).  You answer a series of questions so they can identify your style and your project requirements, and then they create the initial design for you. You can revise their design and once complete, final renderings and landscape plans will be delivered to you.  You can find a contractor yourself to do the work or work with one of their preferred contractors in their ProNetwork.
What software does Yardzen use?
Yardzen uses SketchUp for 3-D modeling and Lumion for photorealistic rendering.
Does Yardzen give CAD documents?
Yardzen provides CAD documents for Dimensions and Materials for all sides of your yard, as well as planting diagrams for all landscaped areas. These are provided in PDF format.
What happens if I don't like my Yardzen design?
I asked my Designer this during our Zoom call, and he conveyed that Yardzen wants to make their customers happy, so if they dropped the ball on the design, let them know and they will do everything they can to make it right. During our design process, they never gave any indication that we were stepping over the line on any changes we wanted to see, and they included a second revision at no extra cost for us.
This is subjective, but in our opinion, it is absolutely worth it. We priced a couple companies in our area to provide a master landscape plan and their prices ranged from 5K up to 20K.  Yardzen's prices are very reasonable in comparison, and we are extremely happy with our results and their design process.
How long does Yardzen take?
The Yardzen process can take as little as 20 days for simple projects/packages. For larger packages (like ours), it can take longer, and there are factors out of their control that may delay the timeline (for example, if you take 2 weeks to submit information or revisions, like we did).  For our experience, it took 94 days from package purchase to receiving the final designs, but we also had an extra round of revisions, so most timelines will be less.
How many revisions does Yardzen give?
Yardzen does not advertise how many revisions they give past the initial revision round, but I asked our Yardzen designer this question and he said that sometimes they offer two, in rare cases three – but their bottom line is they want the customer to be happy. I'm sure at some point there has to be a line drawn in the sand on revisions and changes, but that line probably varies by project and customer.
Does Yardzen do the work?
Yardzen does not do the actual work, but they match you with a vetted contractor in their ProNetwork that you can use to do the work. You are also free to take the design to other contractors to get quotes.  Yardzen does remain available to you during the construction process should any changes come up or revisions to the documents be needed. They will redline your documents as requested during the build process.
Does Yardzen come to my house?
No, Yardzen does not do a site visit – they are completely virtual.  You are in charge of providing pictures and measurements of your property for them to incorporate into their landscape design plan.