A few months ago (although it feels longer) we revealed our plans to renovate our dining room and shared some before pictures. We try to prioritize our renovations and DIYs based on areas we use the most, and believe it or not, we use our dining room a lot! That wasn't always the case, but back in March 2020 when the pandemic started we were in a rut and wanted a way to make everyday events seem special, so we started eating in our dining room a couple of times a week, playing "restaurant" with our boys. Something else we discovered was that we had a much more relaxing dinner when we were not looking at the mess left from cooking. 
After eating many meals, we started to talk about all the fun changes we could make to the space to make it feel more like "us". The list included adding new trim and molding, painting the walls, installing new lighting, purchasing new dining room furniture, adding a rug, hanging artwork, and finally adding some window treatments. So let's get down to the details!
Dining Room Fireplace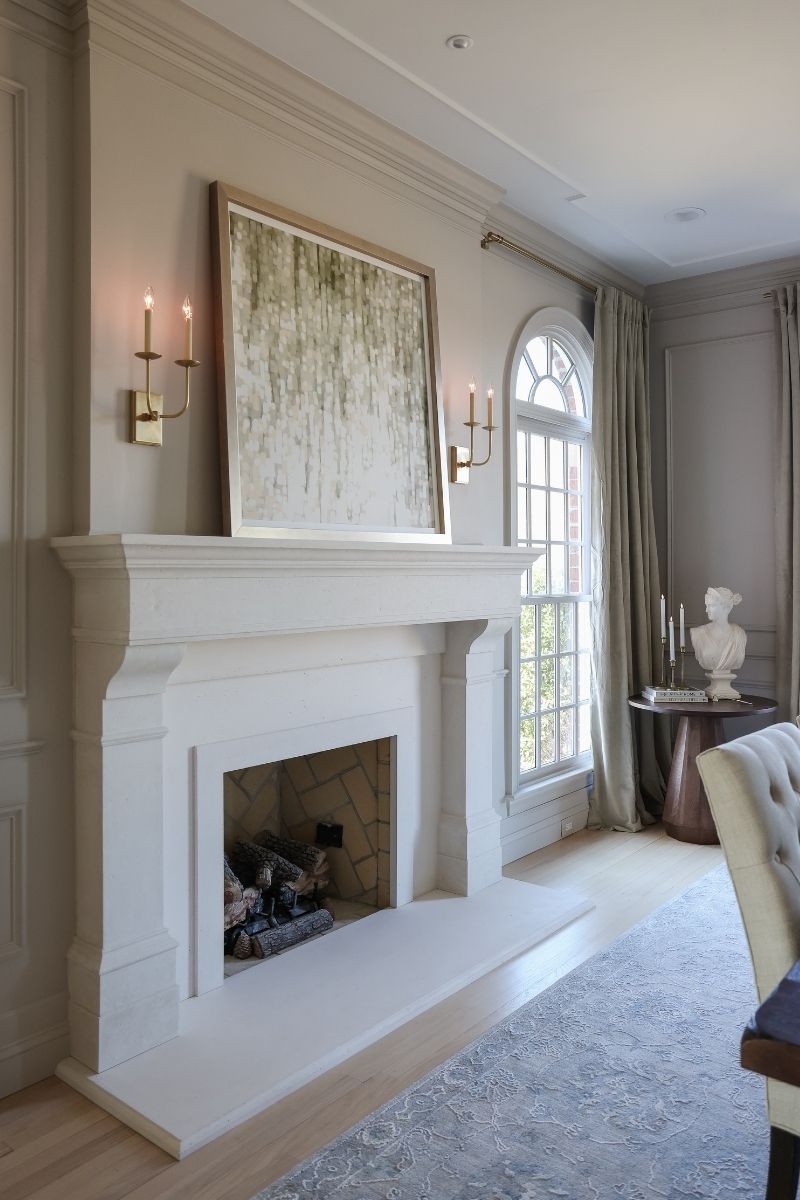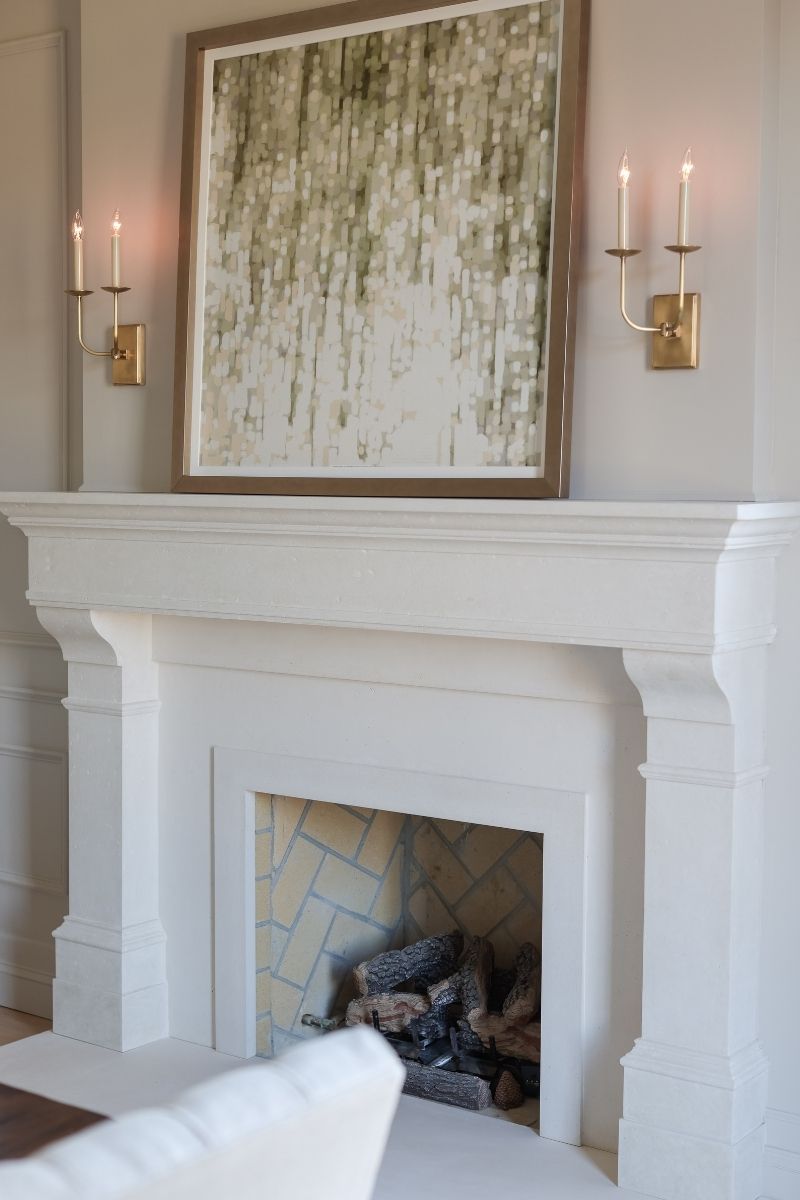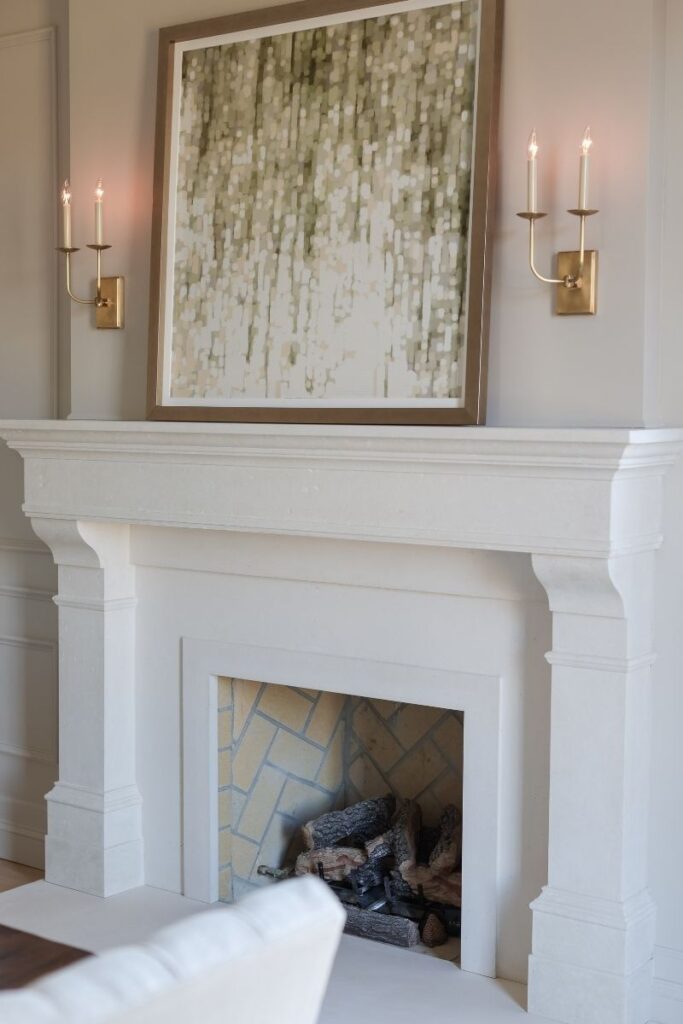 Without a doubt, the biggest change in the space is the fireplace. We caught a bit of heat (no pun intended) from some people for removing the existing hearth and surround, but it was actually a change we needed to make. The marble hearth was cracked and chipping, which was actually a hazard to our feet (sharp shards). The surround, we discovered, was only MDF and not actually real wood. Both of those reasons made us feel less guilty about taking out the existing dining room fireplace and replacing it with something that better fit the scale of the house, and our design aesthetic.
Knowing that we were going to change the fireplace, we set off on a journey to figure out a good replacement. We came across Omega Mantels and fell in love with the stone cast surrounds they offered. We were lucky enough to be introduced to Larry, who was amazing to work with and introduced us to all the different styles, colors and finishes to choose from.
We ultimately decided on their model 1110.557 from their "Seamless series." We chose the pearl color in a honed finish to get the look we wanted and with the help of Larry, we modified the various components of the fireplace surround (hearth, supports, inset, and mantle) to match both the firebox dimensions and the desired height that we needed the new unit it to be.
Let us just finish by saying that we have zero regrets and absolutely love our new dining room fireplace!
Dining Room Molding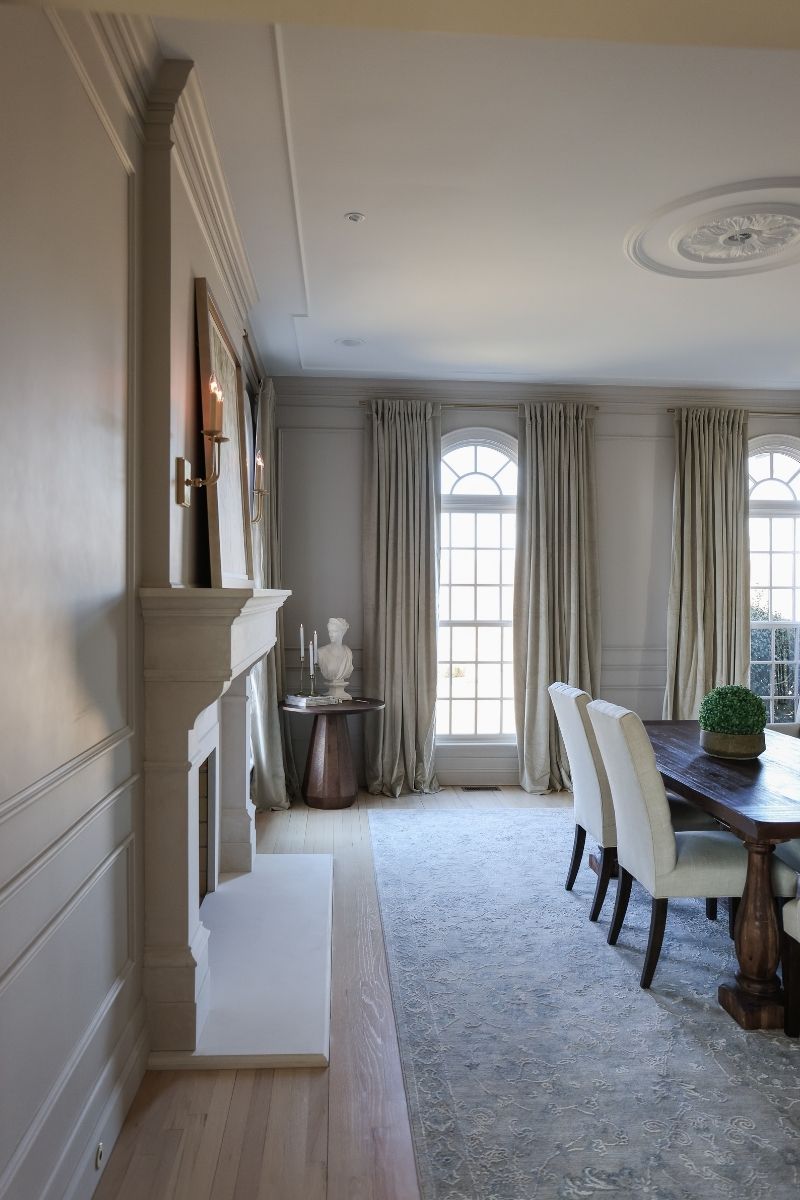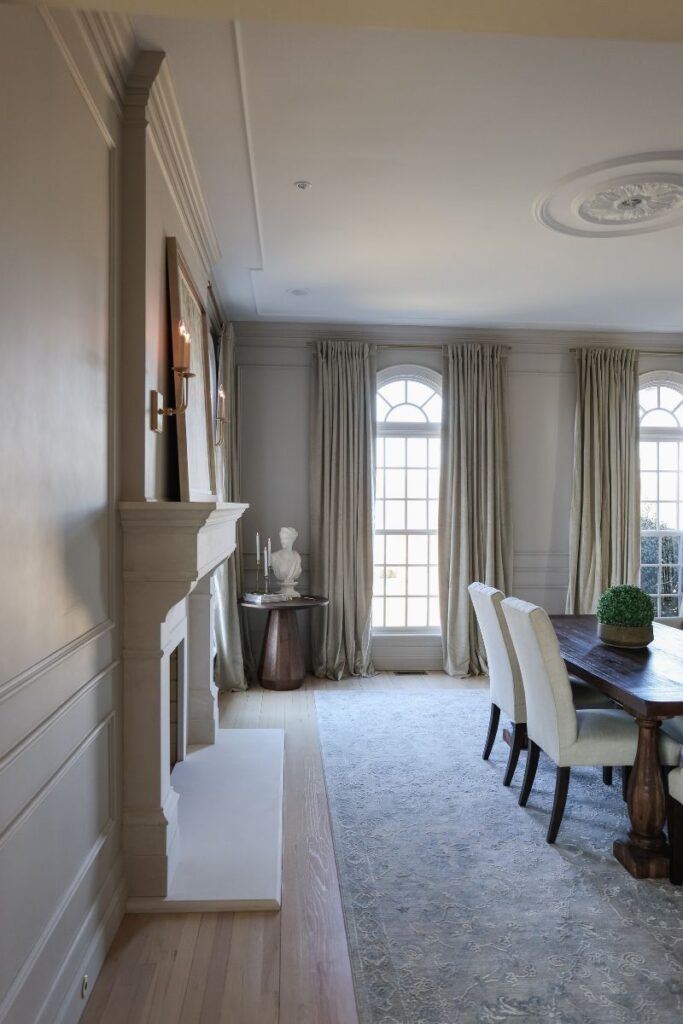 It may seem strange that we spent so much time removing the molding that was already there to then put in something *kind of* similar, but we had our reasons. We wanted to add in dining room molding that was a little more modern. Don't get us wrong, the existing trim was beautiful, but the chair rail was very thick and traditional and the box molding under the chair rail was too small for the look we were trying to achieve.
To give it the modern look we wanted, we chose to use the same molding throughout the walls (boxes and chair rail) and built larger boxes to fill the space and better fit the scale of the room. These changes created a clean, yet classic look to our dining room walls that created a tremendous amount of visual interest and depth to our flat walls.
We kept the crown molding that was already in the room, but had to make some alterations on the fireplace wall, but we will touch on in our lighting section. While the crown molding stayed the same, we decided to add one more small trim piece to the ceiling to really draw your eyes up.
Lastly, we added our custom, two-piece baseboard to the dining room. This is something we added a couple years ago to our first floor – we knew we were eventually going to be redoing our dining room, which is why we originally did not include this room in our baseboard update.
Dining Room Paint Color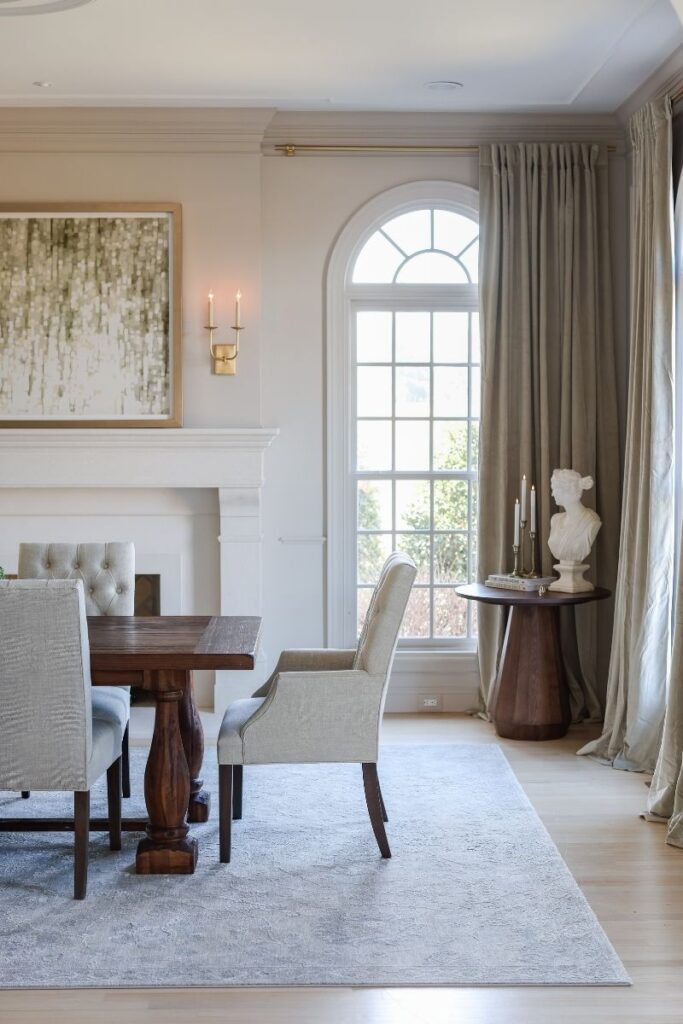 When it came time to design our dining room we knew we wanted to finally get some color up on the walls. We wanted to choose a color that was both inviting, yet intimate and luxurious. We also wanted it to be dark enough that you knew it was different from our white walls, but not too dark and moody. After a number of samples from several paint companies, we settled on the color "Collingwood" by Benjamin Moore. To us, it was the perfect mid-toned "greige". It was the baby bear of the bunch – not too dark, not too light, but just right!
By finally using a color on our walls, we were also able to hop on the monochromatic trend that we have been drooling over. What this means is we painted the walls and all the molding the same color (including our windows) to give the space a more modern, yet timeless look.
Dining Room Furniture
Dining Table
We only owned a few pieces of dining room furniture that we brought over from our previous home. While we love the table we had, it was too small for our current dining room so we chose to purchase a new one. We decided on this GORGEOUS and sturdy dark Jayson dining table. The angled lines on the legs are very unique and the ember finish gives a nice pop of contrast in the space.
We do not have our new table yet but will be sure to update pictures as soon as it is delivered!
Dining Chairs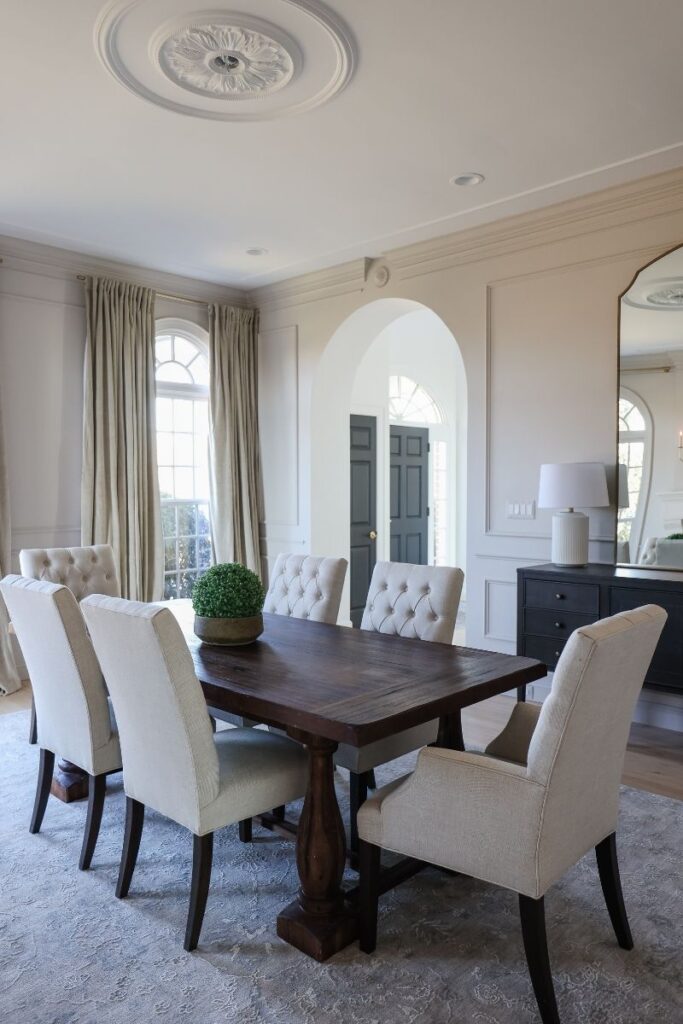 Our dining chairs are the same ones we owned previously. They are the Bennet Parsons dining chairs from Restoration Hardware in the Sand Belgian Linen. We love the straight lines on the back that are softened by the tufting detail, not to mention they are also comfortable. We love them so much we decided it made the most sense to just purchase 2 additional chairs to add to our current set (needed more since our new table is longer) instead of picking out new chairs, which would have been expensive!
Dining Room Buffet
We don't really have fine china, but we wanted a piece of furniture to store serving platters and other odds and ends we use to decorate with when we entertain. We also love the idea of being able to use it to display food or desserts when hosting. We absolutely fell in love with the Luciano Buffet from Arhaus. The rich wood color and the beautiful lines balance both classic and contemporary! We actually originally selected another buffet for this space – the Arhaus Kensington Buffet.
For those of you who read our original blog on the dining room design, you may have seen this item in the renders. It is a curved buffet with marble top, which is very traditional and timeless. However, while we were waiting the months for it to be delivered, we saw the Luciano Buffet in-stock and decided to go with that instead. We do like that the Luciano has taller legs that make the piece feel more modern and "airy" than the Kensington buffet. And we had it delivered 5 days later, which is a borderline miracle in today's supply chain chaos!
Dining Room Accent Table
The Arched Manor does have a larger than average sized dining room. With that added space, we decided it would be nice to have an additional accent table in the corner to display a vase and greenery (or sculpture) to add more depth to the overall design. We decided on the Santos Side Table from Studio McGee – the rich wood is gorgeous in-person and it was the perfect size for the corner we put it in. Yes, we know…"Nobody puts baby in a corner", but we definitely recommend putting this beautiful table in any corner of your home!
Dining Room Rug
We wanted a neutral looking rug with a subtle yet classic pattern and the rug we chose did just that. We went with the Albuquerque area rug from Boutique Rugs, which had the perfect blend of light grey, light beige and charcoal colors in a delicate, traditional pattern. We used our 3D Rendering software to figure out the best size for this space, and this rug is 10' x 14', which fits our longer table and chairs perfectly.
Dining Room Lighting
The dining room lighting is something we discussed quite often – we added a lot of detail (both in trim and in furniture selections) and we needed adequate lighting to highlight key pieces in the space as well as give proper light to the overall room.
Dining Room Chandelier
To us, this was the obvious place to start since it would be a focal point for the room. To keep with the theme of the space, we wanted something that was a blend of classic and contemporary. The Jane Offset Chandelier by Visual Comfort was the perfect size, spanning a good 4' in length, and even though it has clean right angles, it still carries a traditional look with it's classic white shades.
We will update pictures as soon as we have the new dining room chandelier delivered and installed!
Dining Room Sconces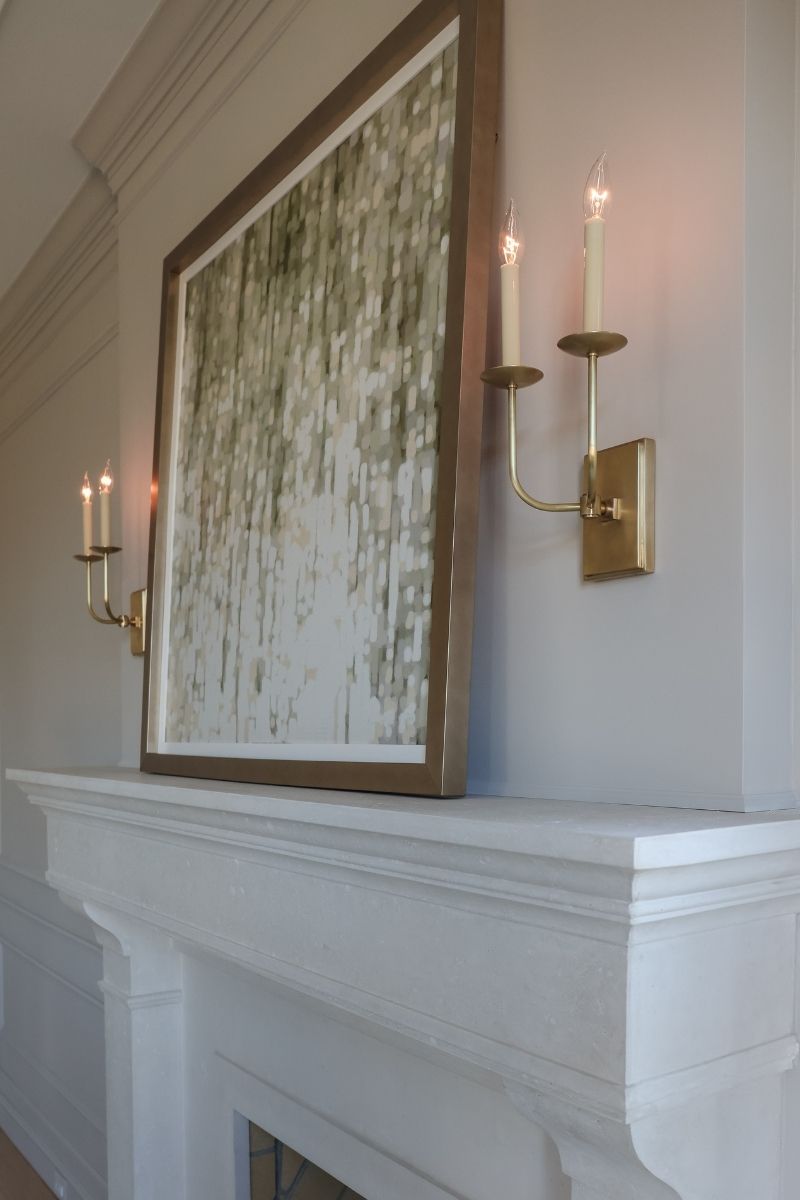 Remember when I mentioned in the molding section that I would touch more on the alterations we had to make above the fireplace? Well now is that time! The reason why we had to modify our fireplace wall was so that we could add sconces above the mantel. We never dreamed we would one day have a dining room with a fireplace, but now that we do, we could not get out of our heads how gorgeous it would look with sconces above it. When we had our electrician out to add the wiring for the new sconces, he discovered that the fireplace chimney was directly behind the left sconce location. The drywall was glued to the cinderblock wall, and there was no way to properly run wire to this light box.
We put on our problem-solving hats and came up with a unique way to solve the problem – what if we bumped out the top section of the fireplace a few inches to give enough room to add the wiring and outlet boxes? We both loved the idea, so we quickly rendered it and loved the new look of this wall. Let us just say, while it did cost us more time and materials, this was one of the best things that could have happened to the space. By building it out, it highlights the fireplace even more and breaks up what was a very long and flat wall. And we now can fit sconces – (insert song clip "Celebration" by Kool & The Gang). We decided on the TT Double Sconce by Visual Comfort in a hand-rubbed antique brass however, we considered a lot of these sconces as well. It is a timeless design and we liked that it did not have shades that would compete with the chandelier.
Dining Room Window Treatments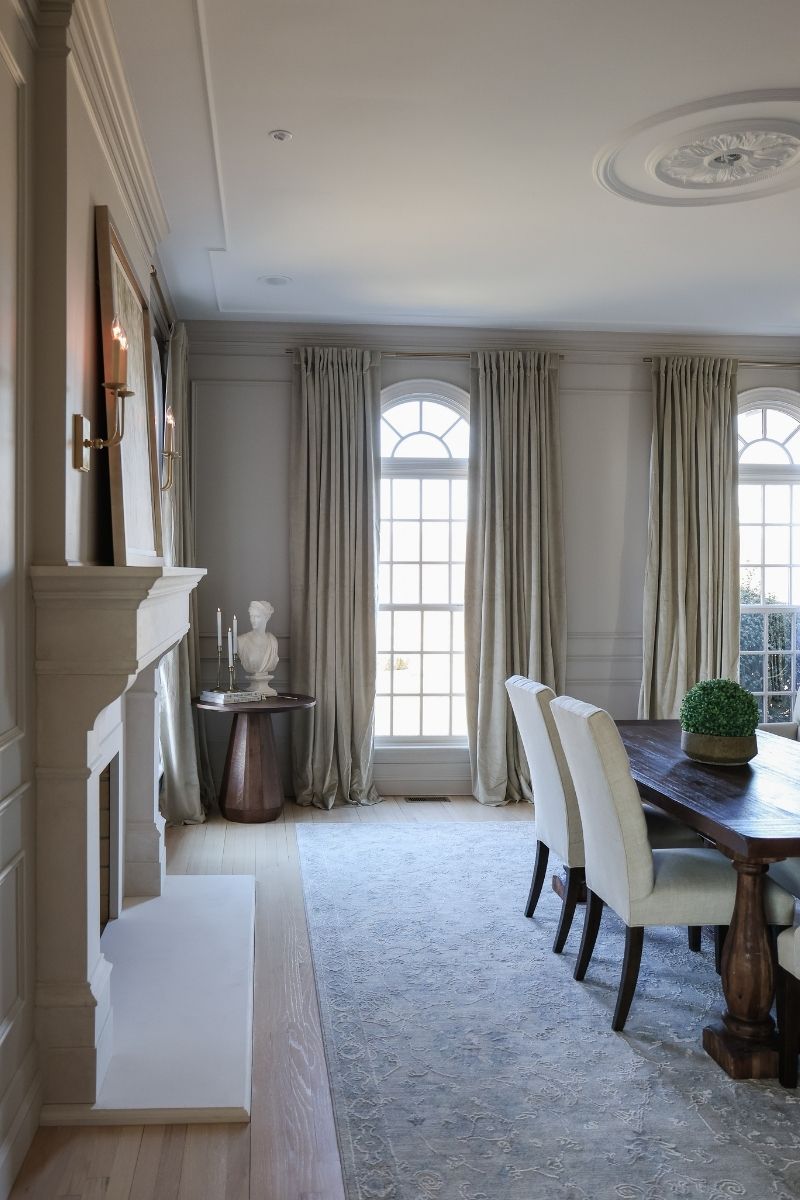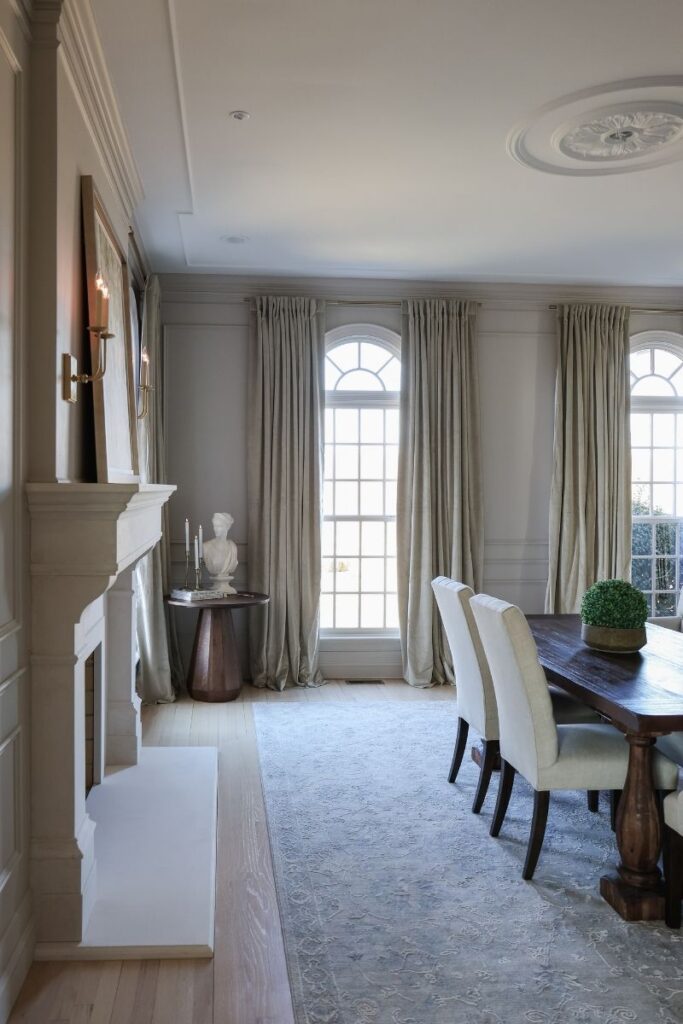 We originally purchased the same curtains that we have in our breakfast room because we love them so much. However, we wanted a more luxurious look. While linen is beautiful, we felt like velvet curtains would better give us the sophisticated look we were trying to achieve. It was a little bit of a challenge to find off-the-rack velvet curtains in the color and length that we needed, but we managed to find the perfect panels! The dining room window treatments we landed on were these velvet drapes in the color 'cool beige'. The 120" length will span our 11' walls perfectly, and these brass curtain rods from Target are sturdy enough to handle the weight of the velvet.
Dining Room Artwork
Artwork and mirrors can be really challenging to pick out! We probably spent the most time researching dining room artwork and mirrors over anything else. However, that research, in our opinion, paid off.
We knew we wanted a large and oversized mirror to make a big impact in the room. We did not want it to be overly ornate, so we decided that a big, simplistic mirror would do the trick. Since the ceilings in the room are 11ft tall, we started looking at floor mirrors and settled on the perfect one. The dining room mirror we used is the Emmy Brass Floor Mirror from Crate & Barrel.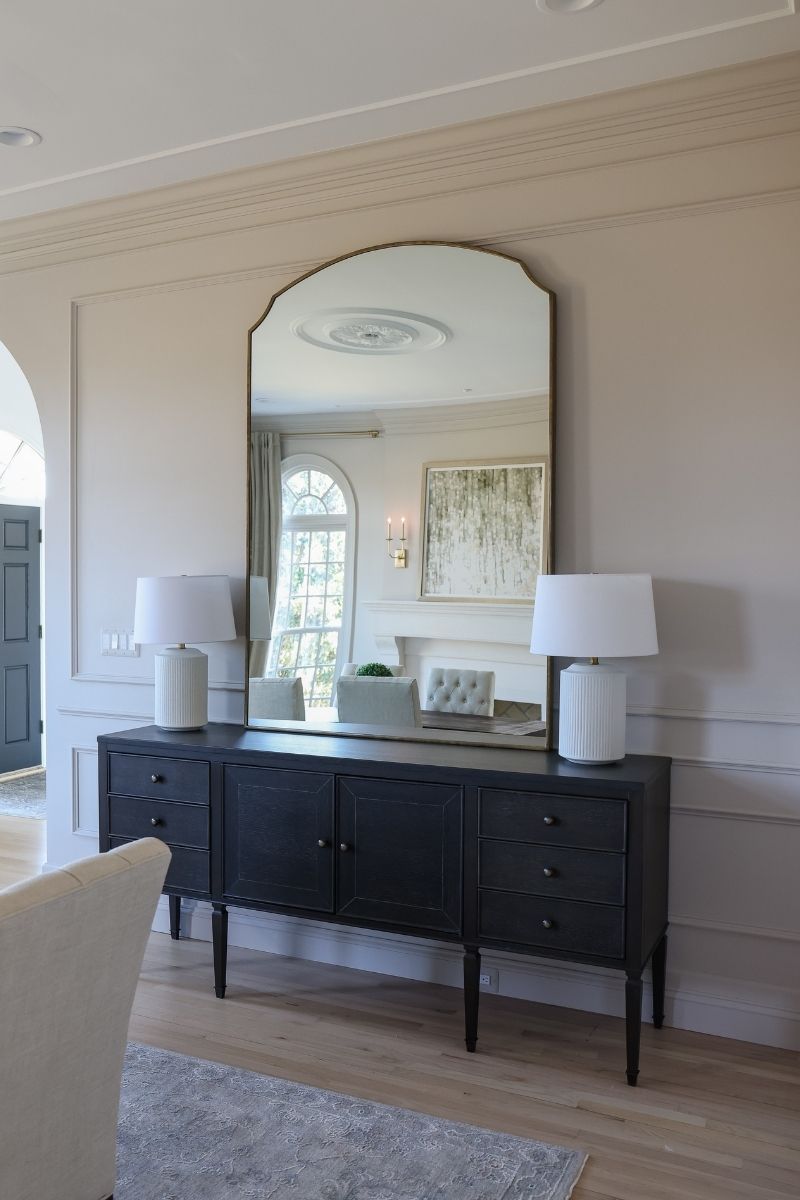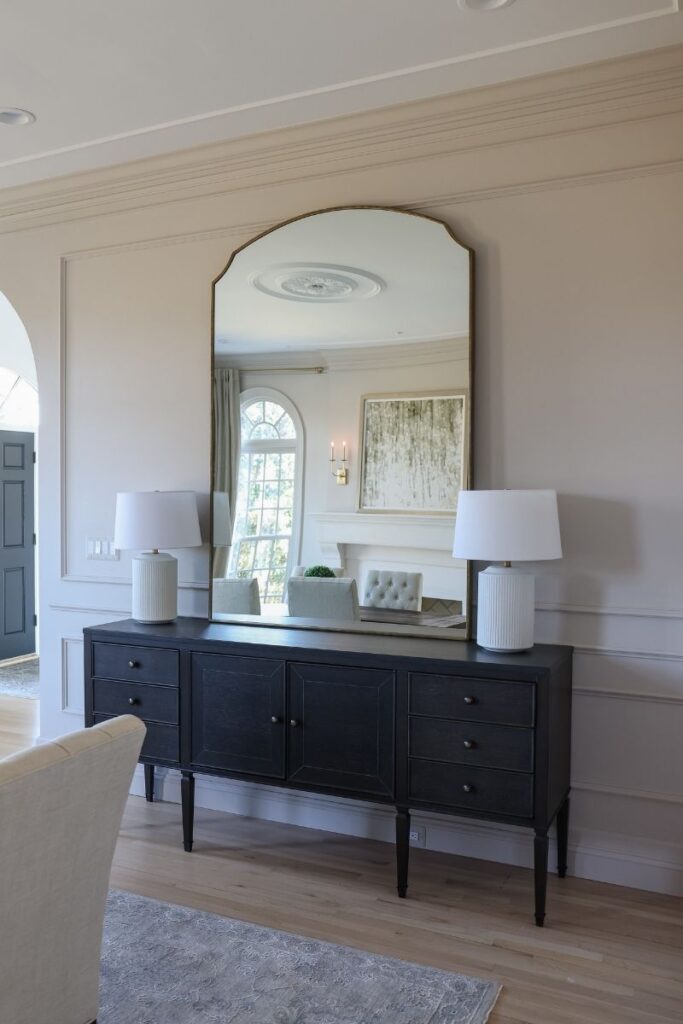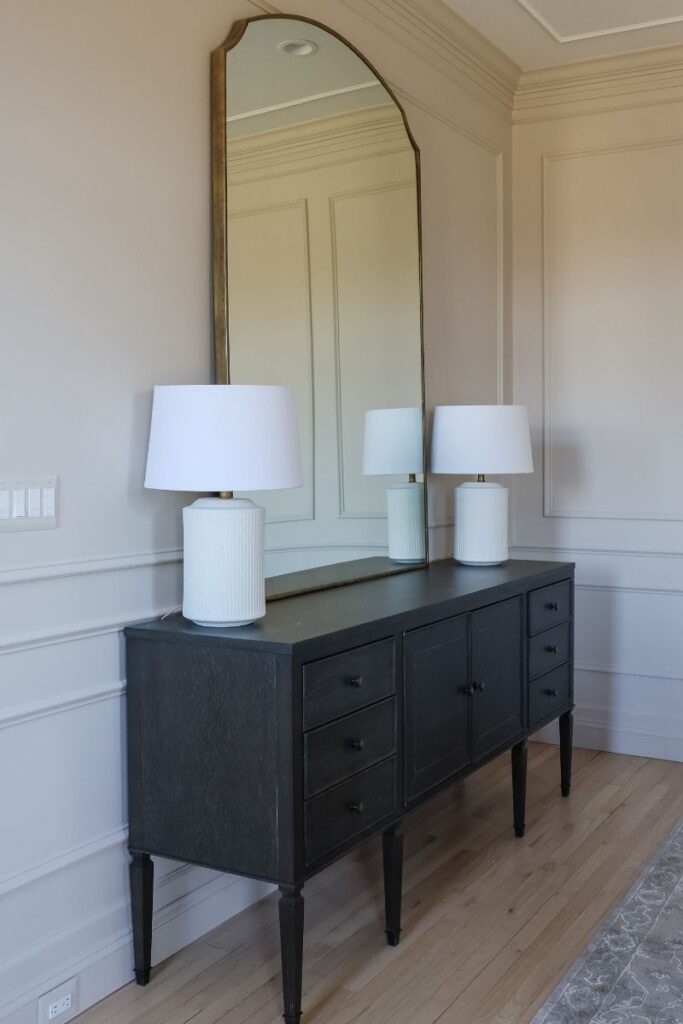 The dining room artwork above the mantle was the hardest for us. We went back and forth on what type of artwork we wanted. Should we do abstract, landscape, a sketch? Then we focused mainly on the color palette we wanted the art to have and researched all the genres from there. We came across this beauty titled "Autumn Hills" by James Mcallen and purchased it in the Knife gel finish. (This one has yet to be delivered but we will update as soon as it has been delivered and installed!)
We have more art pieces that we still want to get to fill some of the other accent walls and will update this when we do!
Thank you all so much for all your support and encouragement along the way. All your kind words and virtual pats on the back pushed us to complete the room and we are thrilled with the results!