We have a wall in our family room that we have been wanting to work on for awhile. Since it is one of the rooms right off the kitchen that we spend the most time in, we figured it was time to give it some love!
It is a beautiful white, tall wall and we currently only have some artwork hung and a credenza perched in front with a set of lamps and decor pieces. While we have been happy with the way it looks now, it's never had that "finished" look. One of the main problems in this space is the scale – even though the lamps are actually quite tall, the 11′ ceiling create a lot of white space between the top of the lamp shades and the bottom of the crown molding. It would be difficult to find taller lamps that would look right in this space.
With all that in mind, we thought the best thing to do would be to install sconces! Also, to give it a more finished look, we decided to install picture molding as well.
We drew up these plans to help us visualize the whole picture and to make sure all the measurement made sense: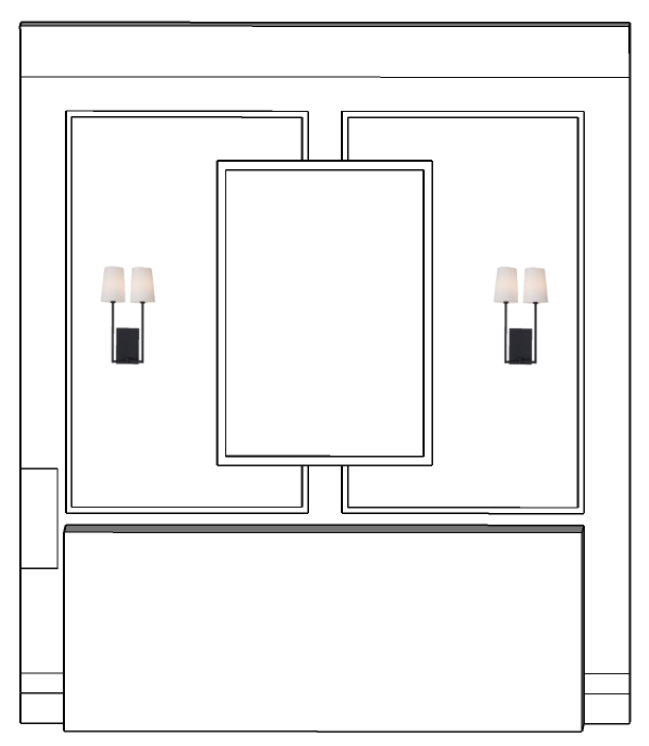 Even though the picture molding gives it a more formal and elevated look, we felt it was important to remember that this is a family room, so we went for a more simple and casual shaped sconce that had a slight tapered sconce.
This double armed sconce from Shades of Light was the perfect fit.
We absolutely love the end result and the juxtaposition of the two and can't wait to start (and complete) the project!