We are beyond excited to reveal our new dry bar! We have been working on the design since November 2020 (which we shared in this blog post) and the actual renovation started at the end of January 2021. We did this project in parallel with our custom pantry (read the project reveal blog post here) which saved us money on cabinets and material. Overall, we could not be more thrilled with how everything turned out and are excited to share the final results with everyone!
Design Breakdown:
The overall look we were going for was a formal, yet timeless space. Below is a layout of all the design elements we included to achieve that look.
Cabinets: Since we already have white cabinets in the kitchen, we selected black cabinets that would differentiate this space and add a bit of formality. We opted for inset cabinets from Cliq Studios (their "Austin" style) in the color "Carbon". We added a row of cabinets on the top that have doors with glass inserts, and we had the insides of these cabinets painted to match the outside. To create a more custom, furniture look to the cabinets, we added two feet to the lower toekick and a matching panel to the end of the cabinet on the right-side wall. We added matching crown molding on the top of the uppers as the cherry on top!
Hardware: To warm up the space we went with brass hardware. However, we wanted to make things a little interesting by going with 3 different styles. It was a challenge finding a hardware company that had the three styles we needed in the brass tone that was not too gold and not too copper. We finally found what we were looking for from Top Knobs! On the drawers we chose cup pulls and for the doors we used knobs. For the wine fridge, we selected a pull handle that has a beautiful decorative edge.
Countertops: We used the same quartz countertop that we have in our kitchen – Organic White from Caeserstone. This is also what we used in our new pantry, and this creates a consistent element between the kitchen, pantry, and dry bar.
Backsplash: What is more timeless then marble backsplash?! We decided to go with this beautiful white honed italian cararra marble. We also added matching marble trim (they call it 'crown molding', which seams weird) on the upper edge of the backsplash on the right wall. We installed it in a standard brick pattern with 1/16″ spacing, with white unsanded grout.
Lighting: A big way to create ambience in a space is lighting. First, we selected Armacost LED tape lighting for undercabinet lighting and in-cabinet lighting for the upper section with glass doors. We like the 2700K temperature of these – it creates a much warmer tone in the space than the 3000K or 4000K variations. The room already had two 6″ recessed lights, but we swapped out the original baffle and trim with our favorite CREE retrofit LED bulbs (also 2700K). To go with our "classy" theme for this space, we selected a brass picture light to highlight the artwork (here are some other great picture lights to consider). All of our lighting is run through Lutron Caseta dimmers linked to our smarthome system.
Wine Fridge: In our last house we installed an undercounter wine fridge and we have REALLY missed it. So in this dry bar, we added a wine fridge and plan to keep this baby stocked! The unit we chose is a panel-ready 24″ undercabinet dual-zone wine fridge. We wanted this to blend in with our cabinetry, so we built a frame out of matching cabinet trim pieces and secured it to the panel-ready door.
Trim & Paint: To stay consistent with the rest of the house, we installed our custom 3-piece crown molding and carried the 2-piece baseboard molding style into this room. We used McCormick Advantage eggshell paint in "Super White" for the trim and McCormick Matchpoint matte paint in "Super White" for the walls.
As you can see from the rendering above, the dry bar turned out pretty much how we designed it. The only variation is that we decided to not install the picture frame molding around the picture. After seeing this wall in-person, we agreed that adding this piece of trim would visually be too much – we wanted to keep a simple, clean look to the wall.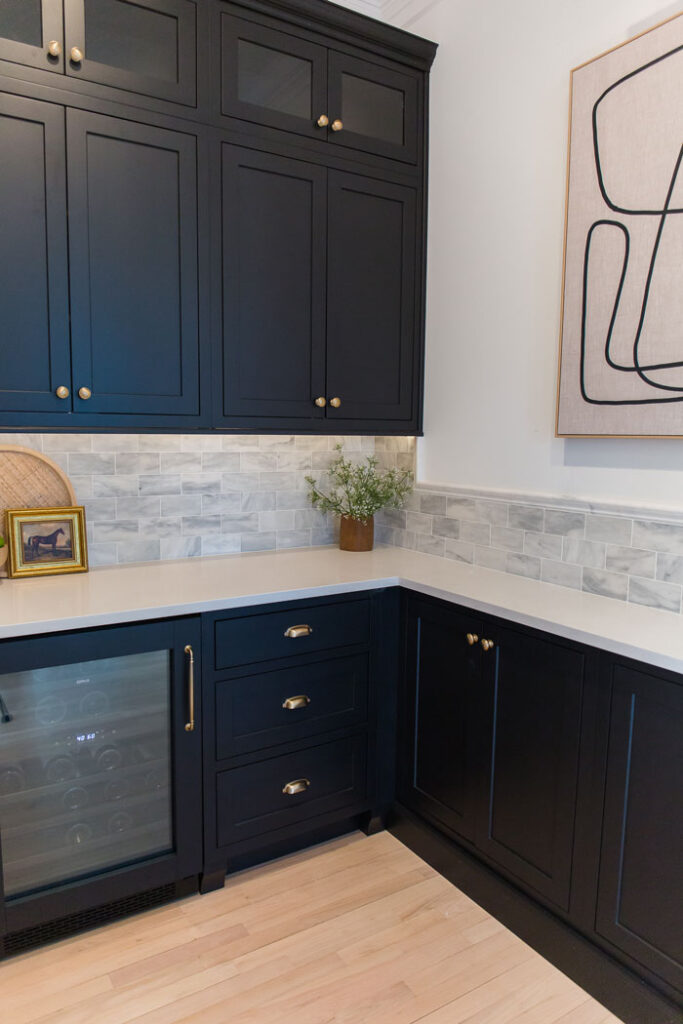 So what do you guys think? Do you love it? Would you have changed anything in the design or the finishes? We would love to hear your thoughts – use the comments section below to let us know!