When we were first deciding on a new color for our dining room, we knew we wanted it to be a neutral greige color. We wanted a paint color that was noticeably darker than the white we used on the surrounding walls and trim, but also not too dark that the room would be considered dark and moody. We narrowed it down to four Benjamin Moore colors; Balboa Mist (OC-27), Pale Oak (OC-20), Silver Fox (2108-50) and Collingwood (OC-28).
We purchased the sample paint and put four swatches on the existing white picture frame molding (see image below). When comparing them side-by-side throughout the day, it became clear that Benjamin Moore Collingwood was the perfect color for the look we were wanting in our dining room.
Benjamin Moore Collingwood Description
The color Collingwood by Benjamin Moore is a medium (or mid-tone) greige color. It is a very popular Benjamin Moore color and one of their best-sellers. Collingwood is a very elegant color with great depth and creates a relaxing and tranquil environment.
Undertones
What is so amazing about Collingwood is that it is really hard to determine an undertone, which makes it such a great neutral. It is one of the few gray colors that does not have a blue or green undertone. If we had to choose, we would say Benjamin Moore Collingwood has an ever so slight purple undertone.
Is Collingwood warm or cool?
Benjamin Moore Collingwood is a warm shade of greige. As mentioned before, it does not have any blue or green undertones.
It is also great in both natural light during the day and in artificial light in the evenings. Collingwood (OC-28) is such a sophisticated color and the level of warmth is always just right.
LRV of Collingwood
The Light Reflectance Value (LRV) of Collingwood is 62.
The LRV of a paint color is the percentage of color that reflects off of or is absorbed by the painted surface.
It is recommended that you use a paint color of 50% or higher so that the paint reflects more light than it absorbs. This is especially the case for darker paint colors!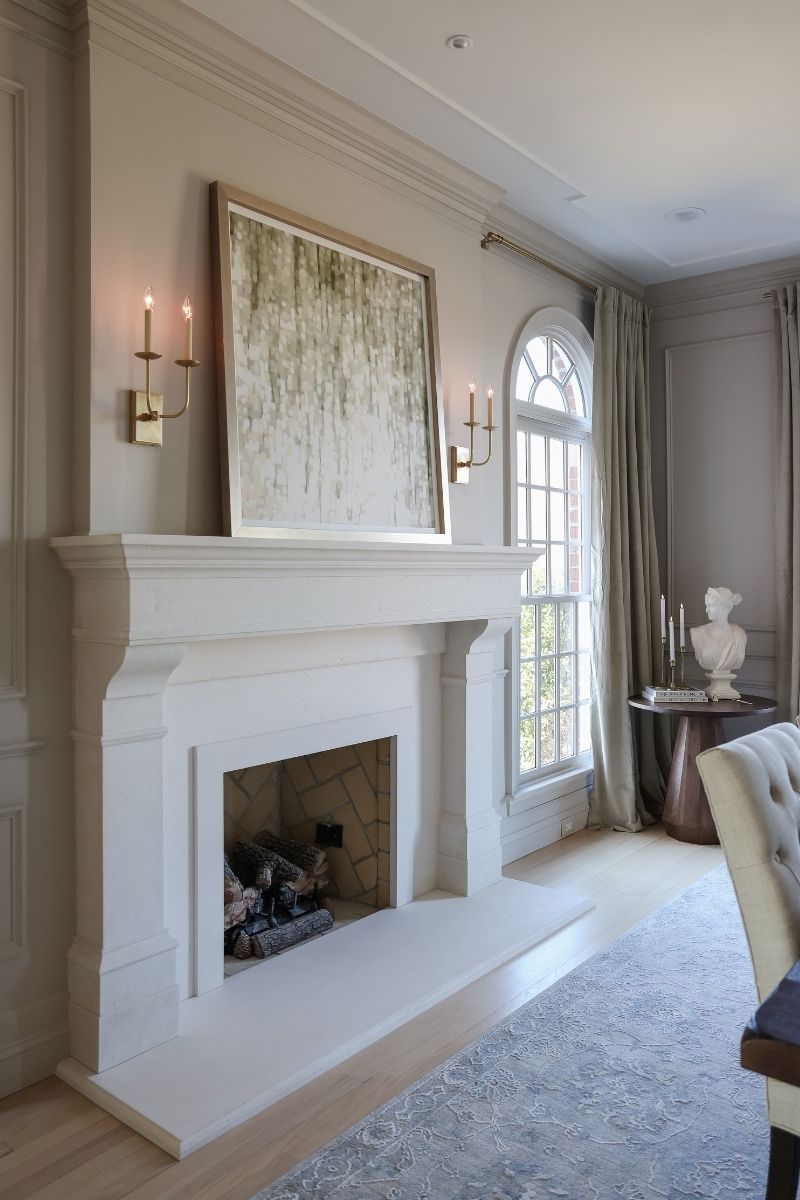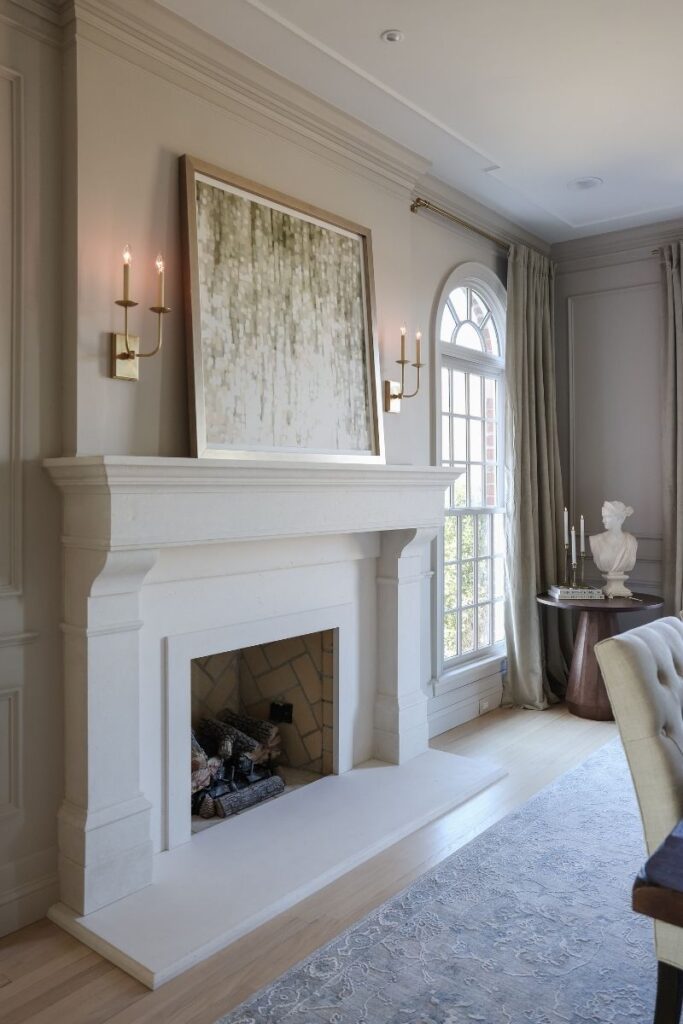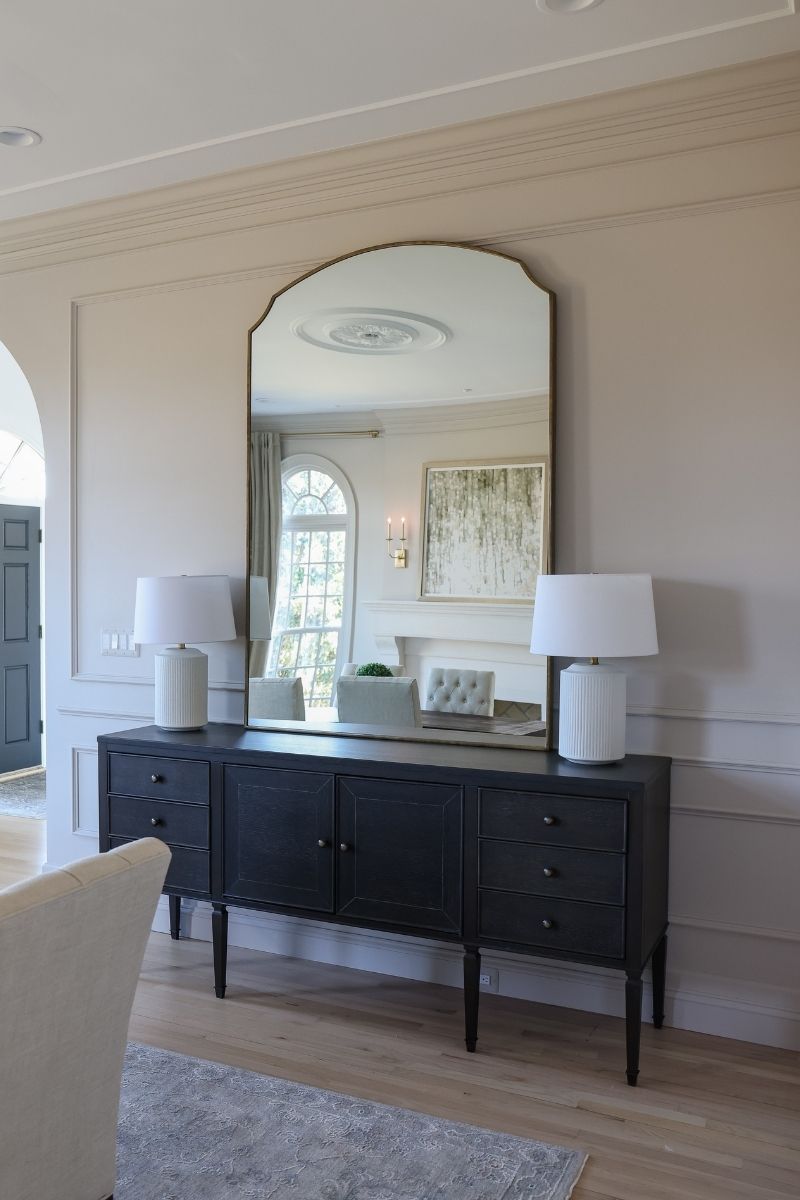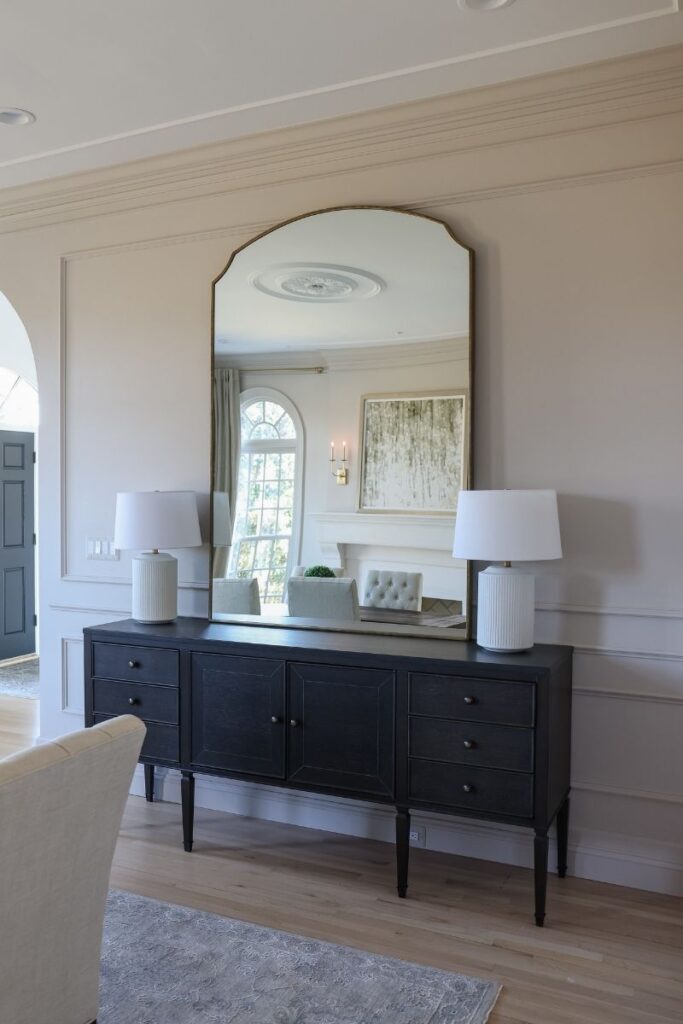 Where is Collingwood best used?
Collingwood (OC-28) is a perfect whole-house color. It truly is a chameleon color and would look stunning in any of these rooms:
Bedroom
Family Room
Living Room
Powder Room
Dining Room
Basement
Bathroom
Mudroom
We used it in The Arched Manor dining room and painted all the walls and trim (including baseboards and crown molding) the same color and sheen to create a monochromatic look. We did, however, not paint the ceiling in Collingwood – we painted it in flat white paint. In fact, you can see the color in its truest form when you look at it next to the white ceiling.
For some of our other favorite paint colors that we have used in The Arched Manor, check out this blog post.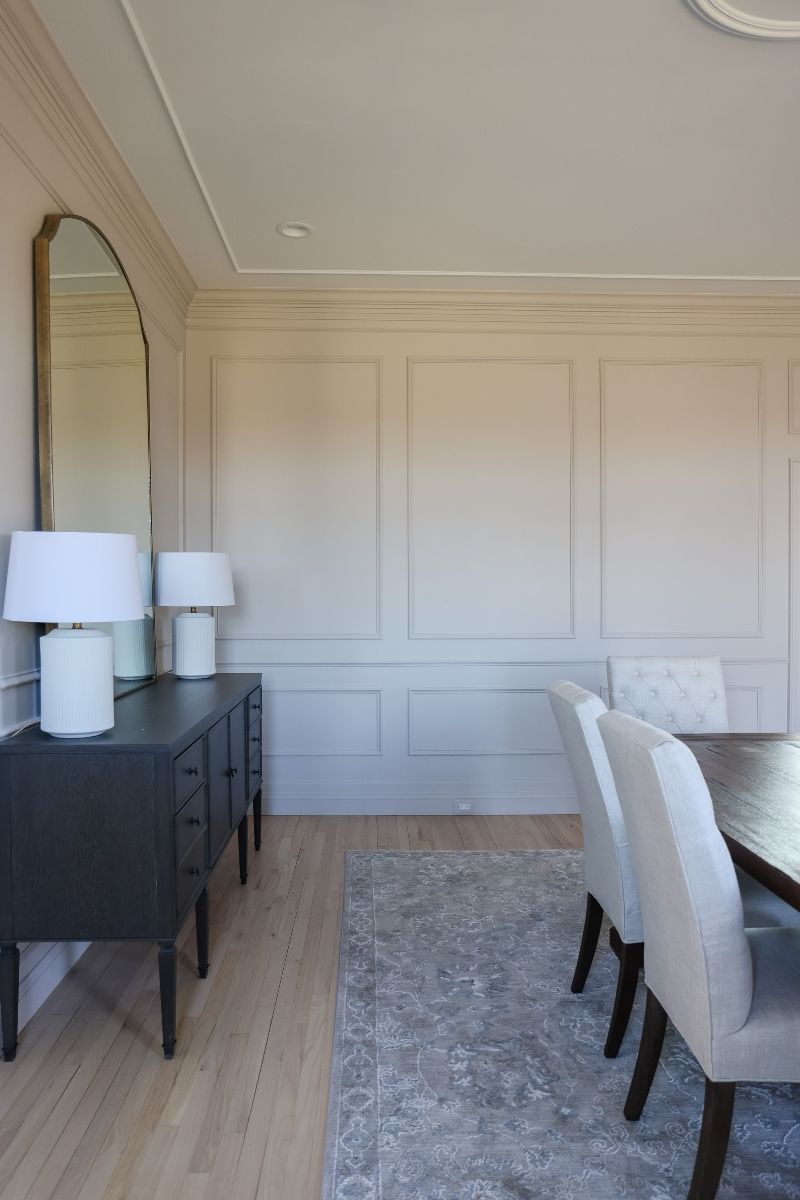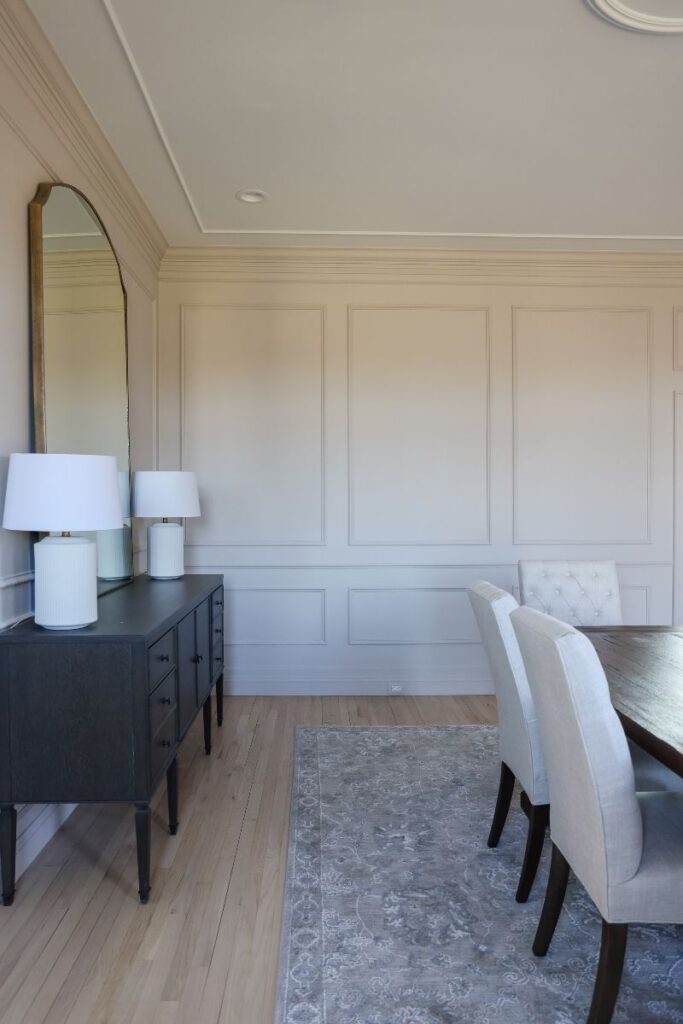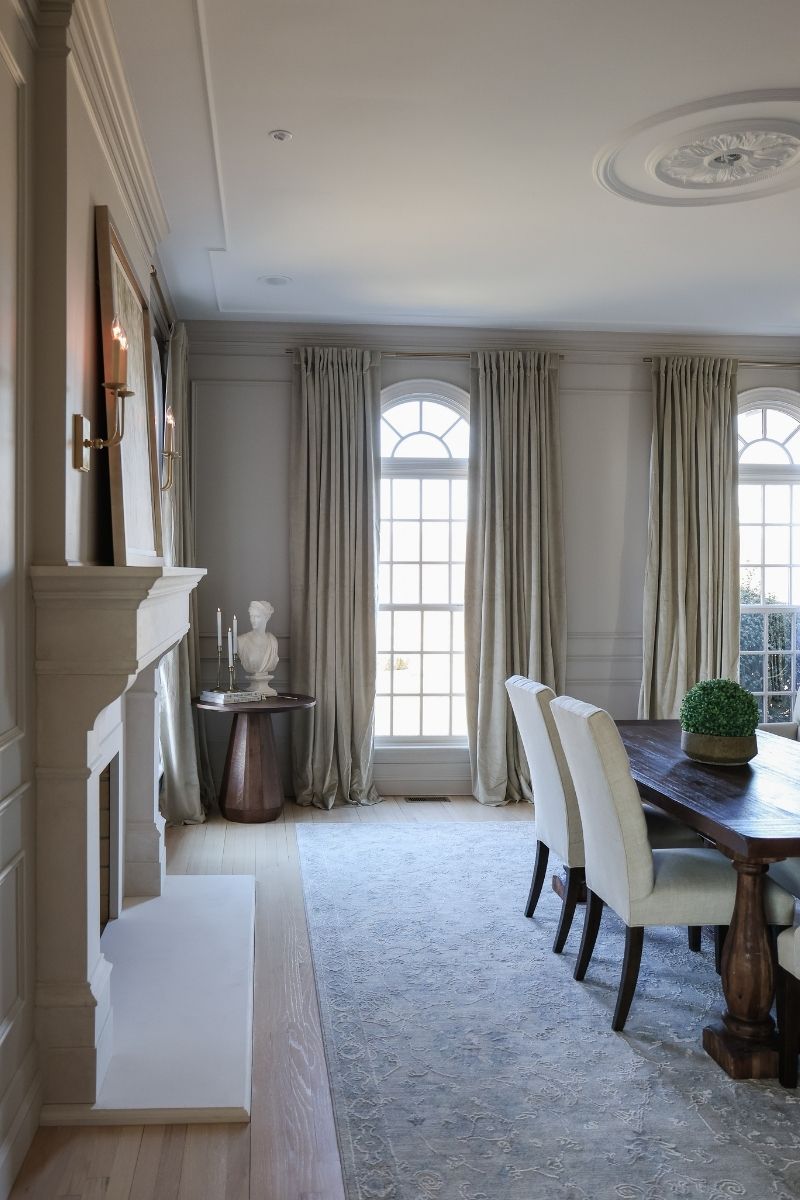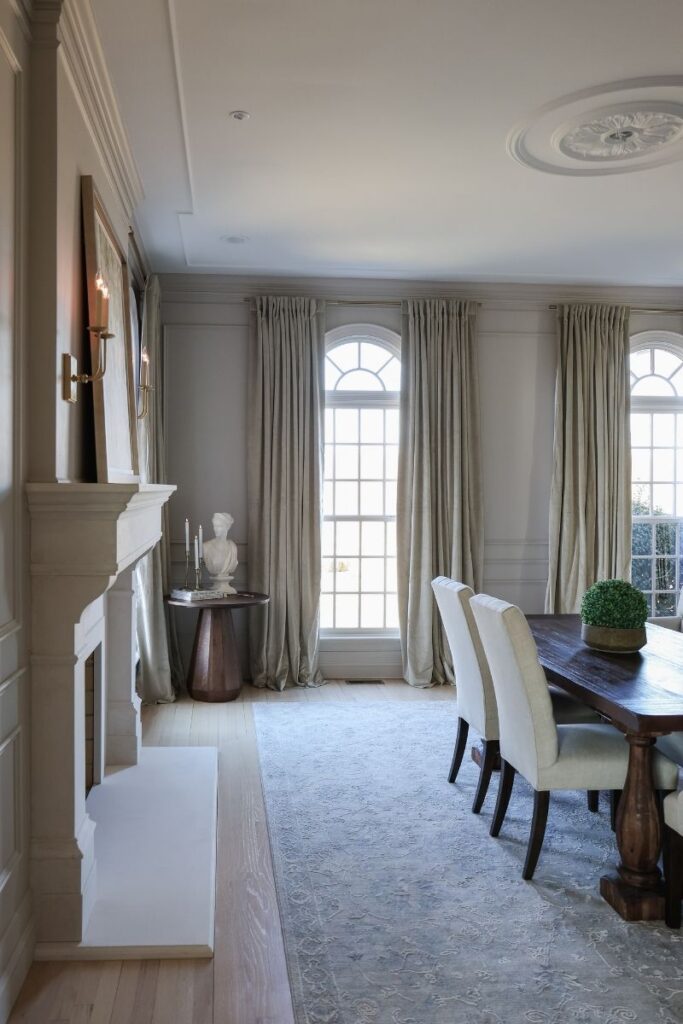 Tips before using Benjamin Moore Collingwood
It is always recommended that you sample the color in your space before painting it in its entirety. Make sure to paint samples on at least two different walls in your room because the light will hit them differently. Also, it is important to examine a sample for at least 24 hours so you can see what the color looks like at different times of the day.
For more tips when it comes to painting a room, check out this blog post "DIY Painting tips to save you time and money".