A month ago when I decided on updating our guest bedroom I knew the first place I would need to start is the bathroom. I wanted to see what upgrades I could make with spending as little money as possible. My plan to save included using grout paint to update the tile floors instead of replacing the tile completely!
We have white tile in our guest bathroom with grout that was stained and dirty from years of wear and tear. We were ready to get it looking cleaner, and hopefully, back to how it looked when it was brand new. 
One option was to remove the existing grout using a power tool and a lot of elbow grease.  That would be extremely dusty and labor-intensive, so we decided instead to use grout paint instead! We purchased this particular grout paint in the color white for a monochromatic look.
Add a header to begin generating the table of contents
Grout paint or grout colorant is a special paint that you can use to cover up old, dirty or brown grout to give your tile floors a refresh. It restores the discolored grout color back to its former glory.
Besides the money I saved by updating the look of our floors without having to replace them, there are several other pros when it comes to grout paint:
Most grout colorants have a built in sealer which means the update can be done in just one easy step! 

Grout paint is available in a large variety of shades and colors so you can easily find some that will complement your existing tile. 

Besides using it on tile floors, you can also use it in tile showers or tile backsplashes!

The brand of grout colorant we used can be applied on both interior and exterior surfaces. 

It can be used on ​​sanded or unsanded cement, epoxy, urethane and acrylic grouts.
Steps to Apply Grout Paint
Step 1: Clean existing grout
It is important to clean all the dust and dirt off of your tile. First vacuum and then wipe down the entire surface and the existing grout.
Step 2: Apply grout paint
Put on a pair of protectant gloves before beginning this step. Give your bottle of grout colorant a good shake to make sure all the pigment is distributed evenly. Open up the grout paint bottle and point the tip down on the grout, then gently squeeze the bottle and drag it along the grout line and apply a thin line. 
Tip: Make sure to start in the back of the room and work your way to the door so that you don't box yourself in. Also, work in sections of 4-6 tiles at a time depending on the size of the tile.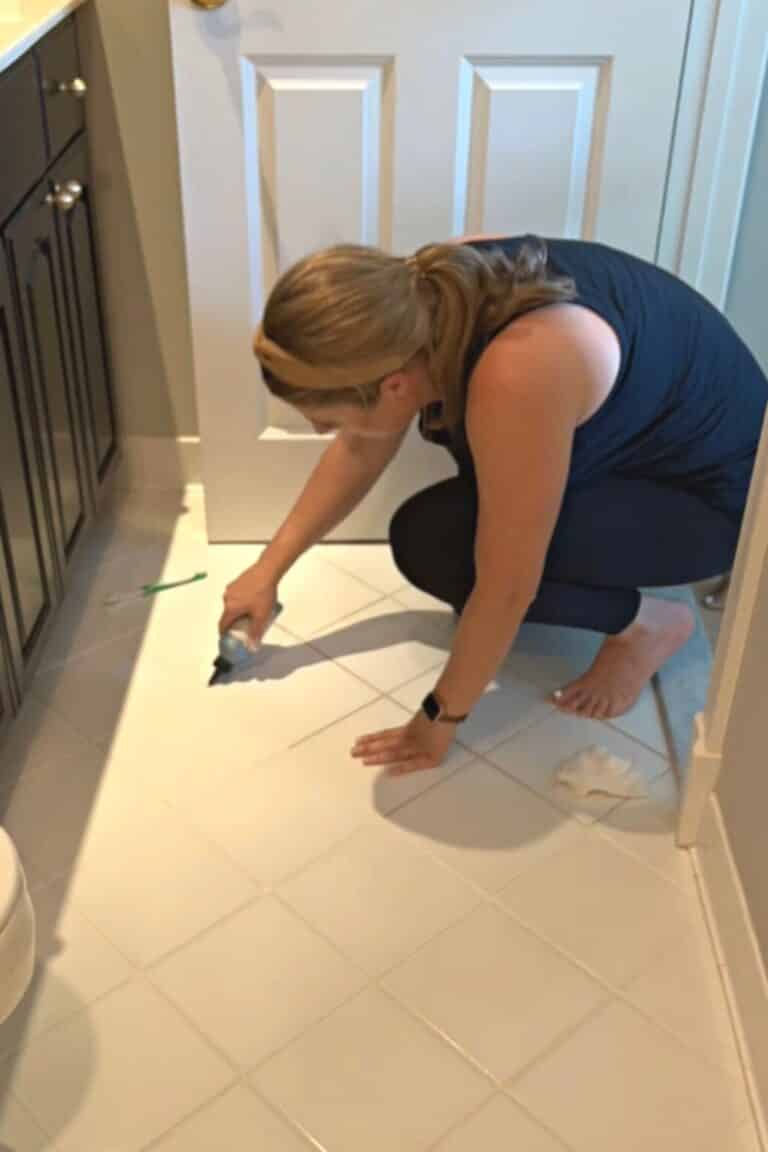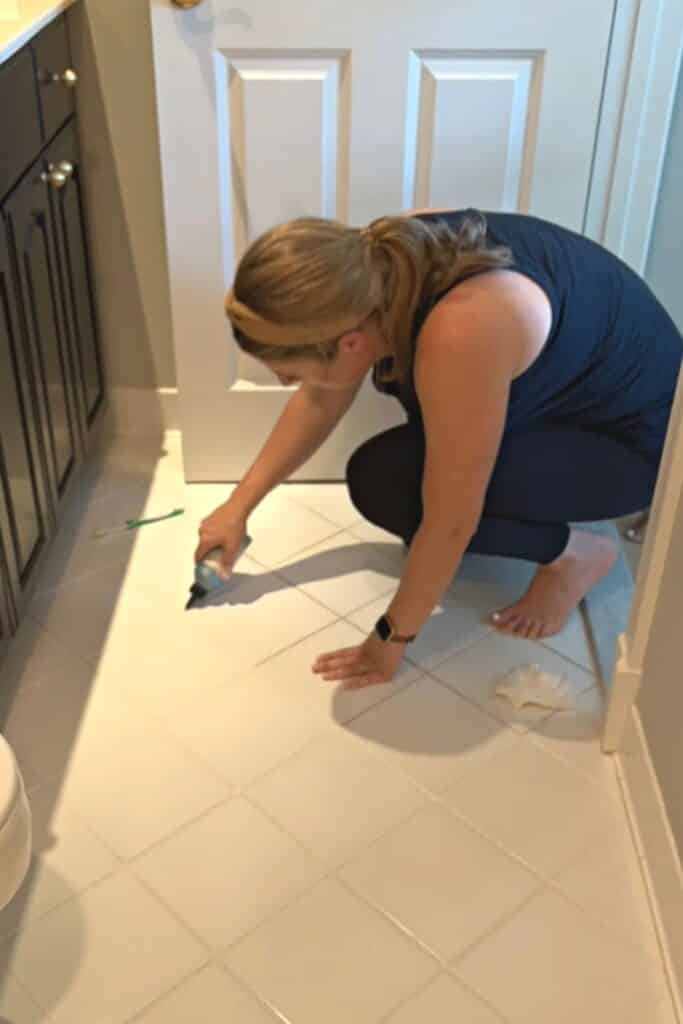 Take your toothbrush and brush it back and forth several times making sure to cover the entire width of the grout line and to get the paint in all the nooks and crannies of the grout.  
I did not worry about how precise or messy my application was because our tile is sealed and I knew I could easily wipe off the excess paint (see step 4). However, if your existing tile is very porous and not sealed, you will want to either be more careful in this step or seal your tiles before using grout colorant.
Step 4: Wipe excess paint off of tile
After you have scrubbed the paint into the section you are working on, take a damp paper towel and wipe off any paint that may have gotten on the tile. Also, in my opinion, it is quicker to clean up the excess paint than it is to try to go slow when applying the paint and avoid getting any on the tile. 
Depending on how dark the original grout was and how light you are trying to make it, there is a potential that you may need to do a second coat. I would wait at least 20-30 minutes to apply the next coat.
When it comes to DIY, I have found that using grout paint is honestly fool proof! Even if you missed some of the paint and it dries on the tile, you can go back and scrape it off with your nail! It was one of the easiest upgrades I have done (minus the body aches from bending over – haha). 
Will I do it again? Absolutely! We have several other bathrooms in The Arched Manor that could use some updating and we may eventually want to consider doing it in our mudroom as well.
How long does grout paint last?
The amount of time grout paint will last depends on how much traffic the area gets, the type of paint used, how well the paint was applied and also how often it is cleaned and maintained.
Which color grout paint should you use?
There are a plethora of colors to choose from and the color you choose is completely up to you! I would just make sure to choose a complementary color to your tile. Stick to cool or warm tones and make sure the grout is not too much of a contrast against the tile.
Is painted grout easy to clean?
I think it depends on what type of mess it is, but generally dirt sits more on top of the painted grout more than the original grout because of the built-in sealer. 
Can you use grout paint in places other than the floor?
Yes! You can use grout paint on both interior and exterior tile. You can also use it on vertical surfaces including shower tile and/or backsplashes.