It has officially been a year since we completed our dry bar renovation! As a short recap, we took a small, awkward area in between our kitchen and dining room and installed custom cabinetry to create a home bar area.  There are so many things that we love about our bar, but we wanted to share with you all 5 home bar ideas to consider in your design to give it a custom and high-end look. Before we dive in, let's review the two different types of home bars.
When we first announced we were building a dry bar in our home, The Arched Manor, we were flooded with questions on what exactly is a dry bar? Is it a bar with no booze? Thankfully no! A dry bar is similar to a wet bar in that it is an area in your home dedicated to preparing and serving alcoholic beverages, but the main difference is that a wet bar has plumbing and a sink and a dry bar does not.  So long story short, a dry bar does not have a sink.
Now on to some home bar ideas to include in your next wet or dry bar design!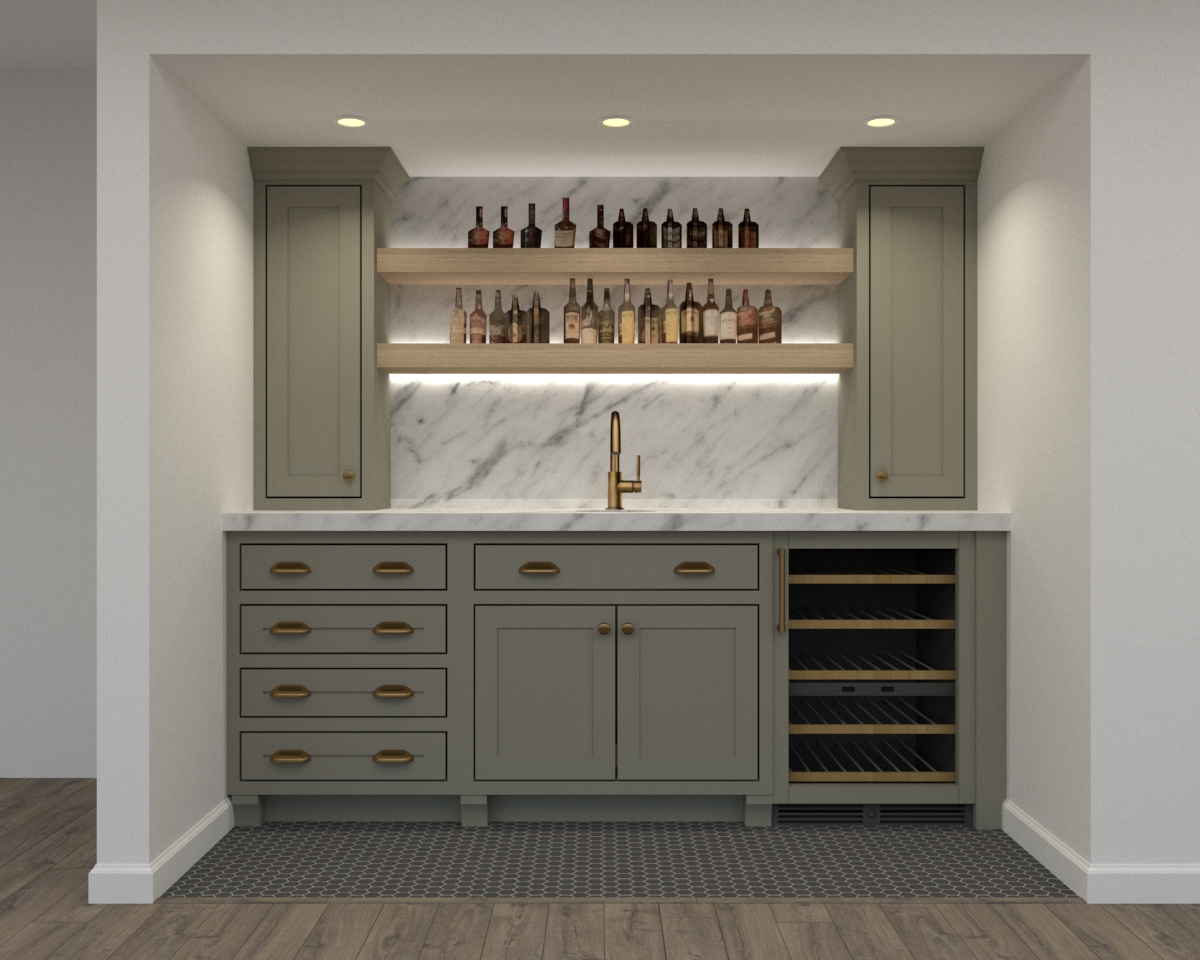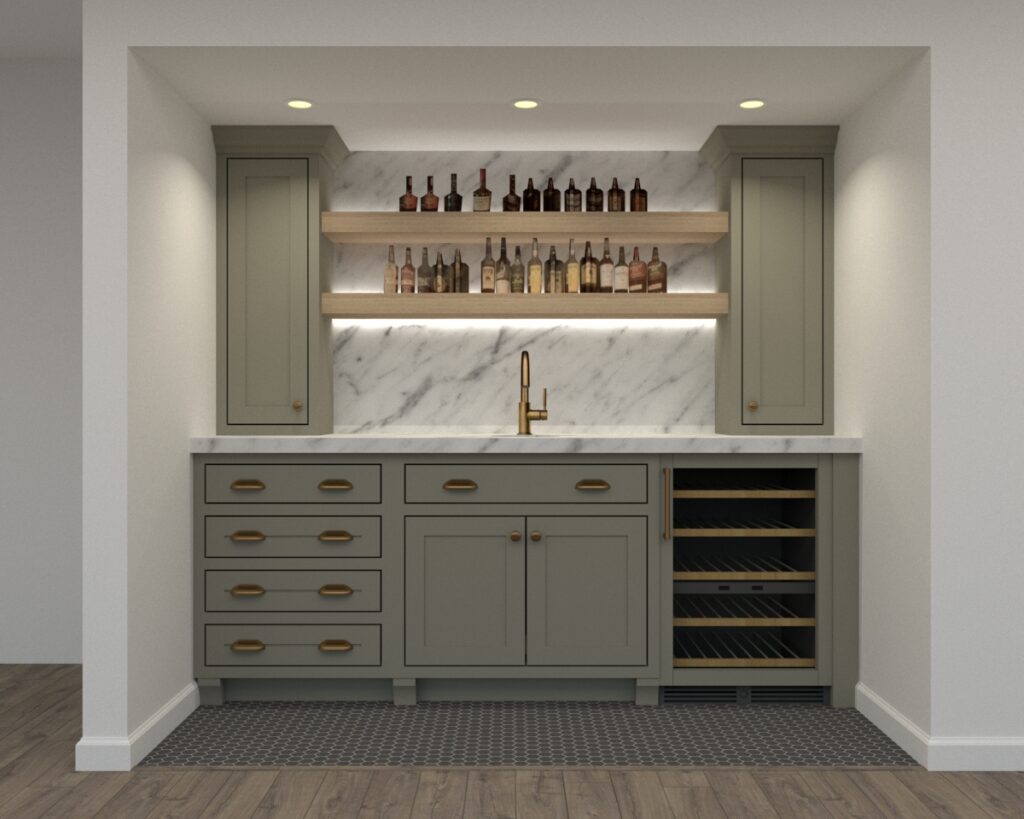 Panel-ready appliances are appliances that you can attach a custom cabinet panel to the front. They are great for disguising any metallic or stainless steel appliances and allow your appliances to look as though they are just another cabinet door or drawer. 
Not all appliances come panel-ready, so if this is a look you are considering, it is important to make sure that your wine or beverage fridge is indeed panel-ready.  
We decided to use this panel-ready wine fridge in our dry bar – the border frame on the door is made from matching cabinet trim and the glass front allows the bottles of wine to be seen.   However, you can also purchase a wine or beverage fridge where the entire front looks like a cabinet door. We opted for this look for the beverage fridge in our pantry renovation.
A Variety of Cabinet Hardware
Our second home bar idea is to include a variety of hardware in your bar design. Let's just start off by saying that there is nothing wrong with falling in love with a beautiful cabinet pull or knob and using it on every drawer or cabinet in your home bar design. However, there is something so beautiful and curated when you can use a variety of complimentary hardware styles. 
In our dry bar, we chose to put knobs on our doors, cup pulls on our drawers and a regular cabinet pull on our wine fridge. The key to making it all tie together is to get as close to the same color or finish as possible. From our research, the best way to do this is to use the same brand for all your hardware.
Home Bar Cabinet Footers and Baseboards
Elevate your home bar design by installing cabinet footers and baseboards. The addition of one or both of these elements can take your home bar cabinets from looking builder-grade to more of a custom looking piece of furniture. 
Using cabinet footers are great for areas where you would still like to have a toe kick area. This would be more of a high-traffic area where you might stand at the countertop more often. Cabinet baseboards are perfect for more decorative areas and can really make your home bar cabinets look built-in.
Power Outlets Inside Cabinets
This home bar idea is nothing new, but nonetheless, a great addition! Adding an outlet inside a cabinet or drawer creates a lot of functionality in your space. 
You are probably not going to be using it to power a blender for mixed drinks or an appliance like a bartesian, but it is great for keeping small appliances charged (for example, an electric wine opener) or hiding small electronics (phones, tablets, etc.) as they charge.  We recommend using an outlet that includes a USB (type A and C) input to avoid using converters or dongles.
The last home bar idea is to add decorative lighting in more than one area, whether it be cabinet lighting, sconces, pendants or picture lights. A combination of 2 or more of these lighting features can make a home bar design feel more formal.
The typical cabinet lighting is under cabinet lighting, which is always a great way to highlight a space, but what about if you have open shelving? We recommend adding LED tape lighting on the back of the shelf facing upwards – this backlights any bottles or glassware you have displayed on the shelves and creates a very custom, swanky bar vibe. 
As mentioned above, wall lights (like sconces or picture lights) can be used in your home bar, which can really elevate your design to the next level. Lastly, pendants can be used if you have a bar top you need to highlight.
We hope you find some of these home bar ideas helpful when you are working on your next project and that you consider them in your designs!