When we first moved into The Arched Manor, we knew that the mudroom/laundry room and the pantry were two areas that definitely needed to be reworked and updated. We made a few initial layout changes about a year ago and are now in the process of adding some design elements! We wanted to take this opportunity to get you up to speed and share what the rooms originally looked like, what they look like now, and show you some renderings of what they will ultimately look like when complete.
Mudroom/Laundry Room
This room actually started out as three different areas (wowza!). There was a laundry room, a tiny half-bathroom, and a hallway with two closets. Because of this, the area was extremely cramped – we cringed at the thought of having to come in from the garage and take coats and shoes off in such a tight space.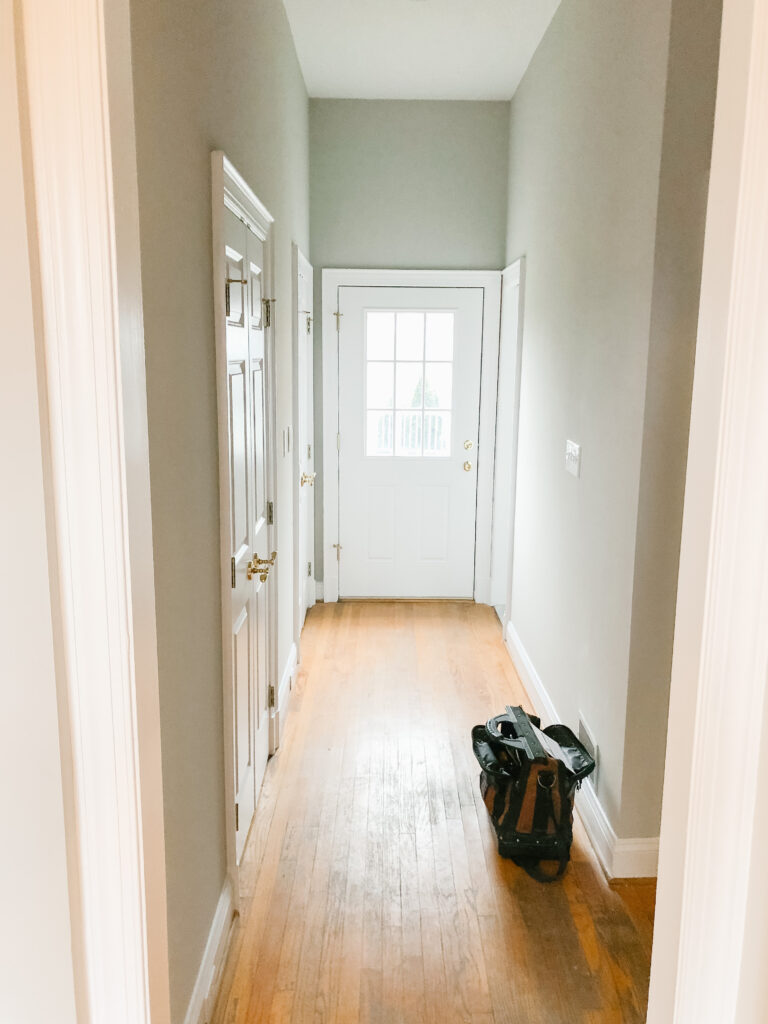 The only way to get the space we had hoped for was to take down some walls. This didn't affect the laundry room that much, but it did mean we had to get rid of a half-bath. We rarely would use this bathroom since there is another one that is more accessible on the same level. Also, the added value from the upgrades we planned to make in this space would offset any loss in property value from removing the half-bath. After a lot of consideration, we decided it was the right decision to make.
We also thought that taking down the walls would make what was a very dark area a much brighter room and spoiler alert, it has!
In addition to removing the bathroom and surrounding walls, we removed the two closets and combined that space into an inset for (eventually) a beautiful built-in locker area that will store all our coats, jackets, shoes, hats, etc! This is actually going to be our next project once painting is done!
Below is an inspiration shot of our future locker area. We love the wood bench, custom lighting, and the blue paint!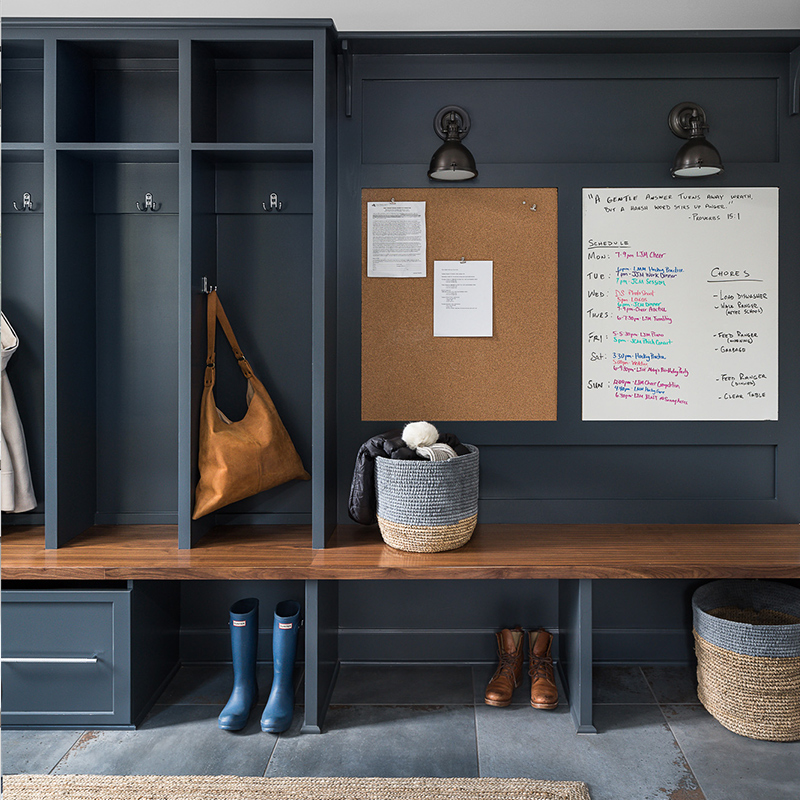 The last change we made to this space is flooring! When we removed all the walls, there were 3 different types of floors; wood in the hallways and closets, tile in the bathroom, and a "beautiful" linoleum in the laundry room. Knowing this was going to be a high traffic area, as well as an area where muddy shoes and dirty laundry were going to lie, we decided to put in a slate floor that not only is not only easy on the eyes, but also extremely durable for the wear-and-tear from our kids and pooch. The herringbone pattern turned out great and the "Delorean Gray" grout is the perfect tone that looks bright enough to highlight/contrast the slate, but also dark enough to hide dirt and dog hair.
Future plans for this room include building out the locker area (our next project), adding cabinetry on the opposite wall, adding a farmhouse sink, and installing quartz countertops. Stay tuned for when those projects happen!
Pantry
We have always dreamt up having a beautiful walk-in butlers pantry and while this house did not initially have one, it did have the potential. The Arched Manor originally had two separate pantries. No one can argue that that amount of storage isn't great, they just were not that pretty or functional and were not the butlers pantry we had been dreaming of.
We decided to combine the two different rooms into one! An added bonus was the window that was in one of the pantries would now brighten up the entire space!
We first removed the wall in-between and converted the two doorways into one large opening. We had to also relocate the air duct from the center of the space to the back. Finally, we installed matching red oak flooring, repaired the drywall, and added two recessed lights in the ceiling.
We are currently painting the room to have white walls, white trim, and black windows/doors. The final step will be to add cabinetry, countertops, a beverage fridge, and some pretty wood floating shelves!
We would love to hear what you think about some of the decisions we have made so far. Would you have done anything differently? What do you think of the renderings of the final spaces? Any suggestions or decor advice?