The black window trend is here to stay folks, and we could not be happier! The black window look is actually based on the look of steel windows, which were extremely common from 1920 to 1965. At that time, aluminum and vinyl came into play and could be produced much cheaper than steel.  But as we know in the design world, everything is cyclic, and using black windows in residential dwellings has been extremely popular in the past 5 years. It's a classic look, that not only makes a statement but also frames the view of the outside better than a white window. It's clean, beautiful, and can either be modern or formal. We absolutely love them – we created a 'Black Window' Pinterest board for your visual pleasure, so check that out if you need some window inspo.
When we moved into The Arched Manor, we knew the wood windows needed some work, but we were not prepared for just how bad they actually were. The back section of the house was in far worse shape than the other sides – the windows sills were rotted, none of the panes opened, and we could visibly see gaps between the sashes and frames. This proved to be a conduit for bugs to enter our house at an alarming rate. In the summer, a swarm of bugs could be seen hovering around the family room recessed lights at night. 
Replacing windows was not something we wanted to tackle for many years, but we decided that we needed to pull the trigger immediately on new windows for the back of the house. We have a unique design style," which is a combination of formal architectural and design elements, paired with causal décor and furniture.  We love white walls, light floors, and black windows, so we knew we wanted to replace the existing white, wood windows with black windows. One requirement we needed to overcome was that from the outside, the grilles had to remain white to comply with HOA regulations. So we either needed to paint the outside grilles white and the inside grilles black, or find a product that had internal grids with different colors for the two sides.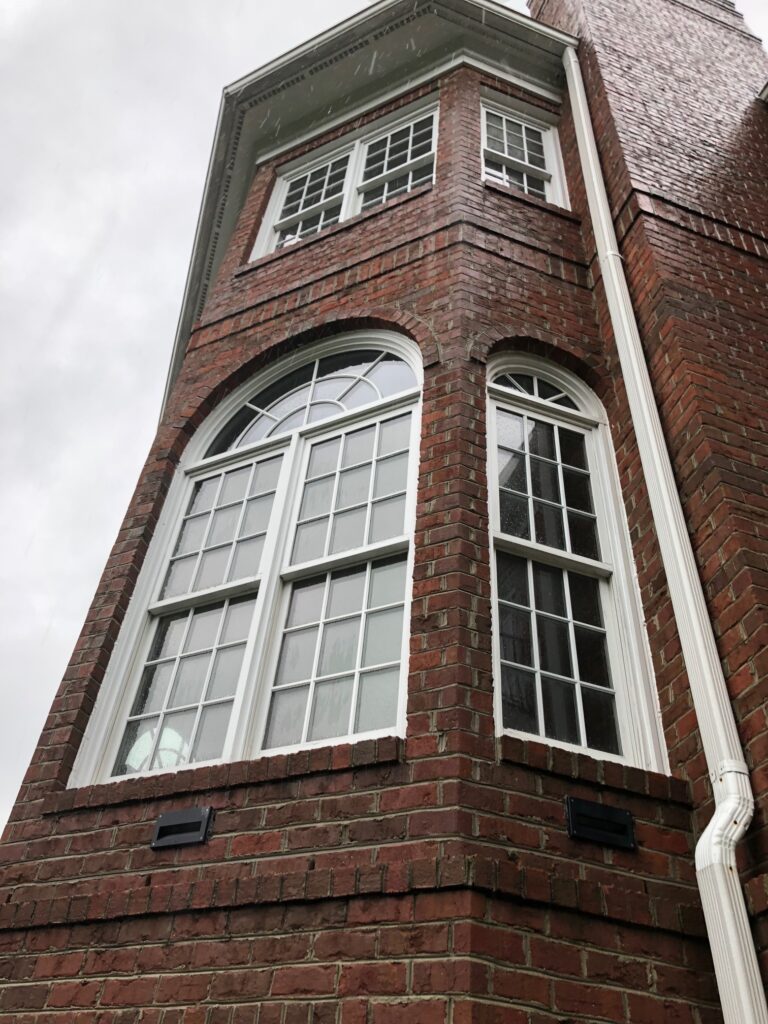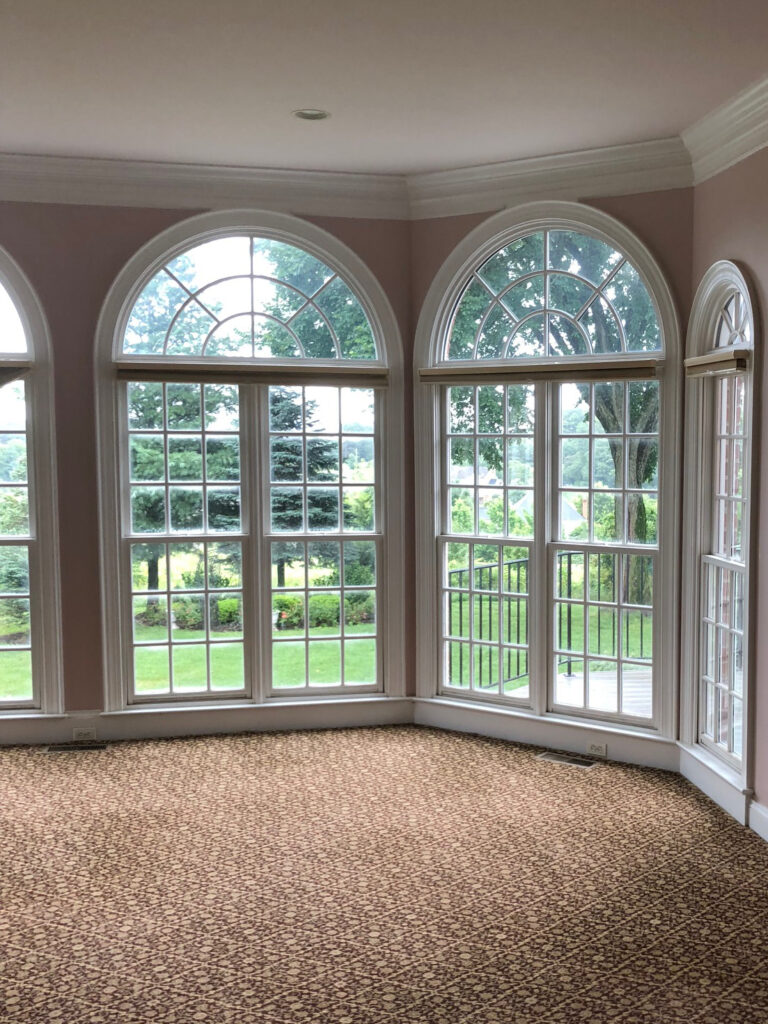 We looked into actual steel windows and threw that idea right out the window (pun intended) once we saw the cost. We then looked at options from Anderson, Pella, and Thomson Creek. Since our house is in Leesburg, Virginia, we have excessive humidity in the summer, which does not bode well for wood windows. The wood expands and contracts throughout the seasons, which can affect their operation (none of ours opened) and are prone to rot. Pella makes beautiful windows, but they are only offered in wood, which in our climate would only last 15 or 20 years. We then had Thompson Creek come out and give us a quote. The problem with Thomson Creek is that they only offer vinyl windows, and they don't offer black grilles. In short, they could not give us that steel window look, so we showed them the door (did I mention we were replacing our old wood doors as well?).
Then we contacted Anderson Windows, and their Renewal by Anderson team came and looked at our project. Our Sales Rep, Mike, was extremely knowledgeable and went through all our options. Renewal by Anderson could provide the steel window look that we craved, and they also checked most of our boxes for this project. Speaking of those checkboxes, let's run through each and show how Anderson stacked up.
Material
Anderson Windows use Fibrex, which is twice as durable as vinyl and extremely strong, allowing for smaller frames and more views!  Perfect for dynamic climates and high humidity (yay Virginia!).
Customization
We were able to customize the look of our windows so that we could achieve the steel window look. We were able to design the exact grille pattern that we wanted for each window. The grilles are also available in different widths (we chose the smallest) and could be a different color on the outside than the inside (which is what we needed for HOA regulations). The only thing we could not customize was the inside casing around the window – we wanted that black on the area right next to the window pane and white on the outer sections, but that was not available from the factory.  This would only be achievable by painting that section after it leaves the factory.
Energy Efficiency
Being on top of a hill, our house gets blasted by sun – we needed an energy efficient windows to cut down on our heating and cooling costs. Anderson offers High-Performance™ Low-E4® SmartSun™ glass, which is 70% more energy efficient in summer and 49% more energy efficient in winter as compared to ordinary dual pane glass. SmartSun™ glass blocks 95% of harsh UV rays that not only heat up the room, but can damage drapes, artwork, and furniture. This glass option is unique in that it has the thermal control similar to tinted glass, but with nearly the visible light transmittance of clear glass.
Professional Installation
This was one feature of Anderson that we really appreciated. Their installation crew was awesome – they arrived on time each day, were very communicative throughout the entire process, used drop cloths to protect our home, cleaned their work areas each day, and were FAST.  They also went through every window and door with us once completed to make sure we were completely satisfied.
Maintenance
Since the material is Fibrex, it does not need to be primed or painted. It can be though, so if you are looking for a custom color to match your home exterior, it can be done. Also, since we chose for windows with internal grilles, it makes cleaning MUCH easier.
Warranty
Anderson windows come with a 20 year warranty. We had an issue with one of the doors after it was installed – the glass vibrated when closed. Anderson replaced the entire door! We also had an issue with some leaks after a heavy rain, and they sent a crew over the next day to investigate and inspect every window. Windows are an investment, and you want to make sure they are installed correctly and function properly, so whatever brand or company you go with, make sure they have a stellar warranty.
Price
It is no secret that Anderson windows are not cheap. You get what you pay for, and Anderson is on the upper end of price compared to other brands. However, these windows will last for 40+ years, so if you plan to be in your house for the long-haul, the high upfront cost will actually be less expensive than replacing your windows in 15-20 years.  Also, the more windows you purchase, the bigger discount you get on the job. Mike, our Anderson Sales Rep, was extremely helpful with going through different pricing options and tailoring our package to fit our budget. Also, if you are in the DC, Maryland, or Virginia area, you can get a discount on your order by contacting Mike and mentioning 1021 Home.  Every bit helps!
Nothing is Perfect
We love our windows, but there are certain things we wish we could change. One being that we would appreciate it if the inner casing could be offered with multiple color options. That way, we could get the true steel window look from the factory without having to have them painted once installed. We were originally going to have them painted black, but our painter was very hesitant to paint them given that this will be exposed to full sun and heat, so we decided to just leave it. That being said, it did turn into a happy accident because we love how they look!
Also, the white Fibrex material not as bright as we would like. It has a slight off-white coloring to it. This is especially noticeable when compared to our white trim surrounding the windows. It would be nice if these were offered in more shades of white to better match.
The doors we had installed are solid, but they have a locking mechanism that you need to pull upwards to engage.  On most of the doors, it is not hard to do, but on one of the larger doors we have, it has been a chore to get it to latch. We have had the Tech come out and adjust the lock a few times, and it is now working pretty easily, but it has taken many months to get to this point. We also wish they offered some sort of lock or latch that was smart home friendly.
Conclusion
Our windows turned out gorgeous – they not only look like steel windows but they are energy efficient, easy to clean, and will last 40+ years.  Their uniqueness is not discreet, and their views bring the outdoors in. We are extremely happy with Renewal By Anderson and would jump at the chance to use them again (our front windows will be ready for replacement soon).  If you are looking for the steel window look at a fraction of the price, consider Renewal By Anderson – their quality is outstanding and you won't be disappointed with their products, installation, and service.