When deciding what kitchen island pendant lights to select in your kitchen, there are a lot of design factors to consider including the scale of the pendant, the style, and the type of ambience you are trying to create. It seems like it should be a relatively quick and simple decision, however more time may go into the decision than you think!
Pendant lights are a great way to add character to a space and can really reflect your personality and design style. Also, if your style or taste changes over time, they can easily be swapped out.
Add a header to begin generating the table of contents
What size kitchen island pendant lights should you get?
Before we get into tips on selecting the number or size of pendant lights, let us just say it really boils down to personal preference and what your style is in your home. Traditional homes may have two large pendant lights or one long classic linear light. Modern homes may have smaller lights, but more of them (four, five, or more depending on the length of the island).
When determining pendant sizing, spacing and/or number of lights, we recommend these tips:
Tip 1: The number of lights is ultimately determined by the length of your island. An island 8' or less usually has two pendants hung above it. You can increase the number of pendants for kitchen islands longer than 8'.  
Tip 2: Pendant lights should generally be about 30" apart. A good rule of thumb is that the space between the lights is at least double the width of the pendant. (ex, if a pendant is 12" wide then space them 24" apart.)
Tip 3: Hang Pendant lights inside the ends of your island by 6-12".
Tip 4: To determine the height of the pendants, the bottom of each pendant should be about 30-36 inches above the countertop. However this rule may change depending on the shape/style of your pendants or ceiling height. 
All this being said, you do you! Some of these rules can absolutely be broken based on the style of your home, the style of the light, and what makes you happy!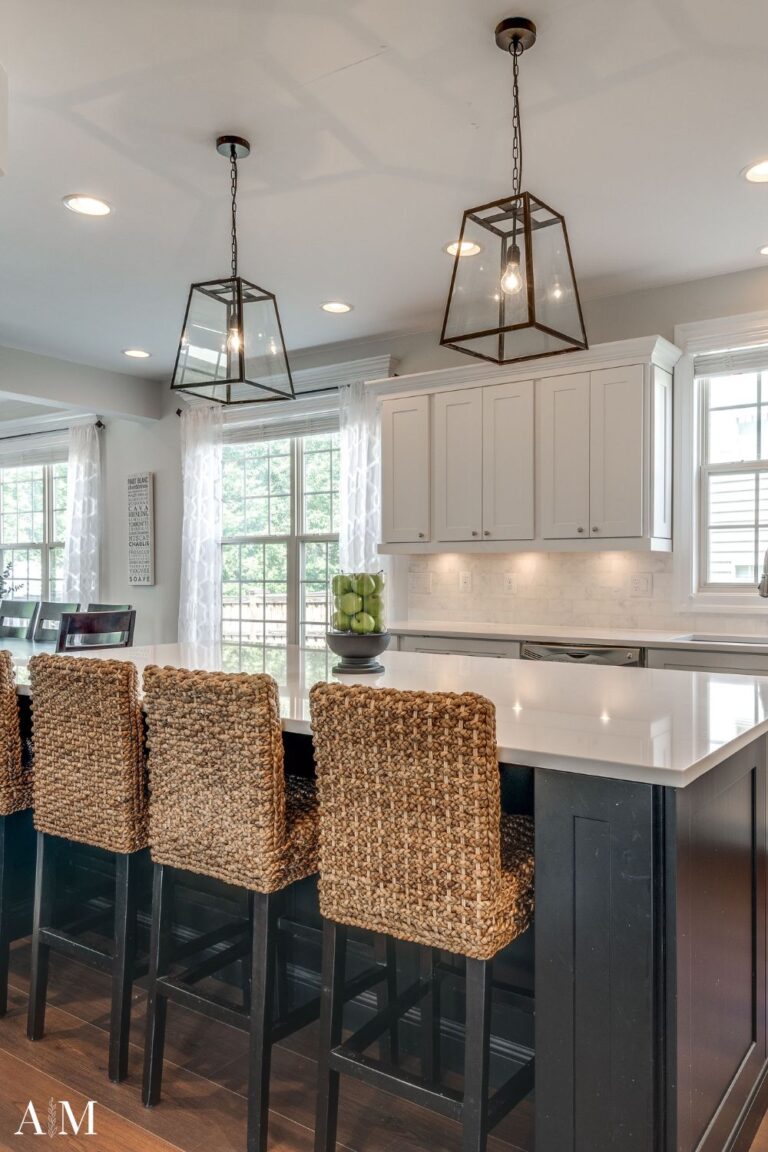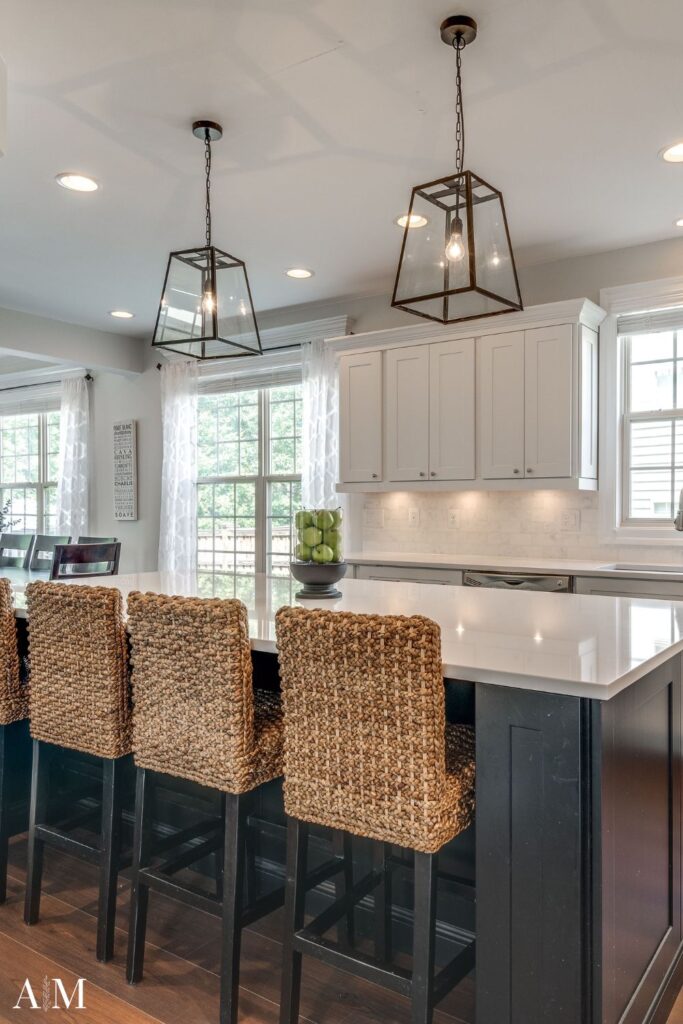 Examples of pendant light layouts:
As a reference, here are two examples of different sized and amounts kitchen island pendant lights above an island.
What style of kitchen island pendant lights should you choose?
We know this is not what you are going to want to hear, but again, the lighting style is personal preference. However, we do have some things to acknowledge or think about when choosing what style pendant to purchase and our favorite ones are included in a roundup below.  
The first thing you should think about when deciding on the style of kitchen island pendant lights is what type of light do you want them to provide? Do you have other sources of light in your kitchen (ex. recessed lights, under cabinet lights, sconces, etc.)? If you do not have recessed lights, then you will most likely want some sort of pendant, like a lantern style, that will provide as much light as possible. If you have recessed lights or other accent lighting installed in different parts of your kitchen, then you can probably get away with installing pendants that are more decorative and provide direct light, such as a dome pendant.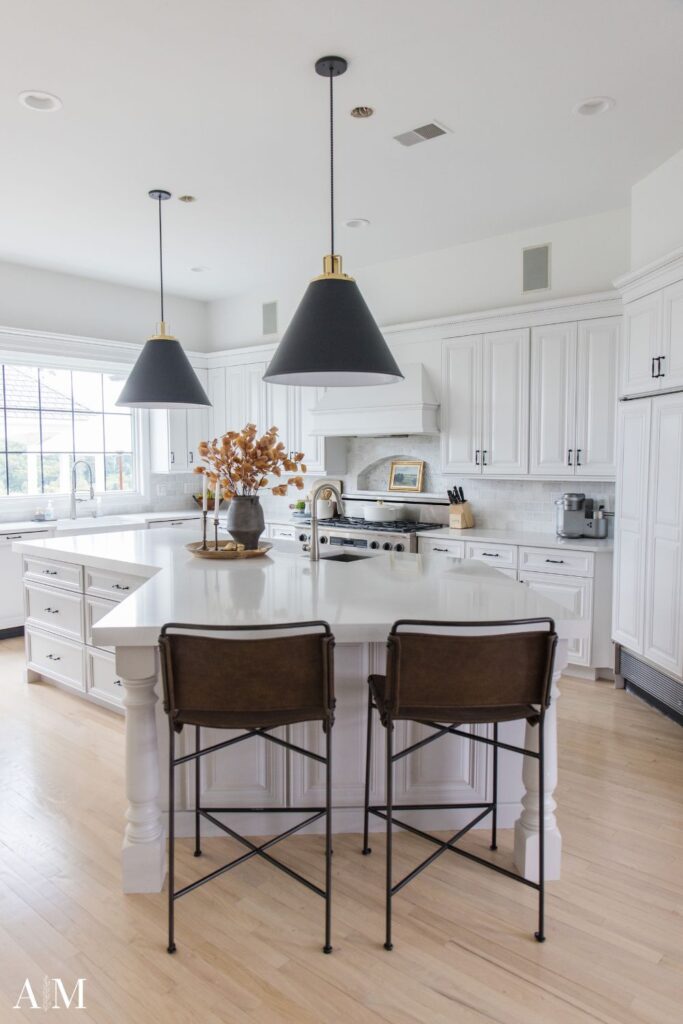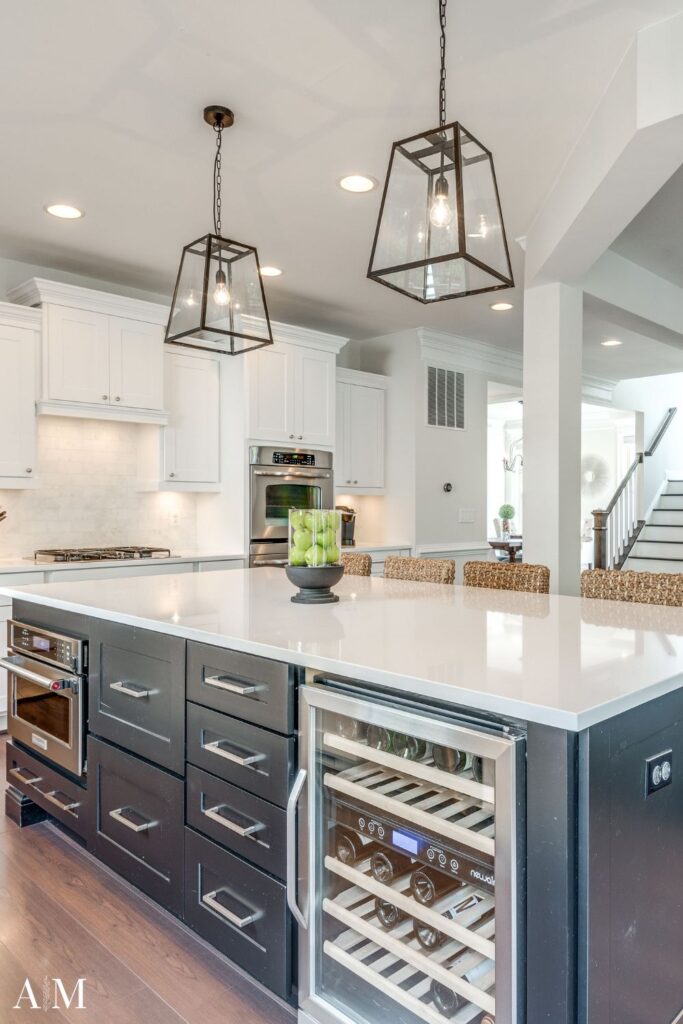 One thing we learned from personal experience is to be careful when choosing a pendant light with glass. We had lantern style pendants with glass in our previous home, the Sweet Suburban, and while they are beautiful, the glass always looked dirty and showed dust. If you do choose a pendant with glass, we recommend gently wiping them regularly with a microfiber cloth.
Another thing to consider is the finish of the pendant. Don't be afraid to use another material, whether it is mixing metals or introducing another material altogether. If you have black hardware on your cabinets, then bring in brass to brighten up the space and add warmth. Also, don't be afraid to use wooden or woven pendants that can add beautiful texture to your kitchen.
Our last two tips when deciding on pendants is to make sure you purchase lights that have adjustable chains (or you measure correctly before order). When we purchased the pendant lights for our current kitchen, the rope/wire length had to be specified during the ordering process and it cannot be adjusted on-site, so measuring twice is a must!
The second tip is to use a dimmer switch (with lightbulbs that are dimmable) so that you can change the brightness throughout the day.
Here are six different shapes of pendant lights to consider for your kitchen island:
Drum

Dome

Cone (what we have in The Arched Manor)

Lantern

Globe

Cylindrical