Yard equipment is FINALLY going the all-battery route and I think I speak for all the weekend warriors out there when I say…it's about time!  For yard work, two things I don't like dealing with are extension cords and gas/oil. So when the good folks at Green Machine offered to let us test out some of their battery-powered lawn gear, I quickly jumped on it! 
The beauty of their equipment is they all use the same battery, which is a concept that makes total sense at a high level but is something really difficult to achieve technically. Handheld tools like a leaf blower or hedge trimmer need to be light, so the battery needs to be small and light. Larger equipment like their lawnmower need more power and need to last so you are not swapping out your battery every 5 minutes. 
This blog post is sponsored by Green Machine.
Add a header to begin generating the table of contents
This is where Green Machine went above and beyond – their battery shape is consistent across all their tools and it's offered in both 4.0Ah and 2.5Ah versions.  It's by no means lightweight, but for most of their tools, it's balanced pretty well and easy to use (see our note on the hedge trimmer section  below). The batteries have a nice charge indicator button and indicator so you can check the charge level easily. 
We tested out four of their tools – the hedge trimmer, leaf blower, chainsaw, and the self-propelled lawnmower. In this post we will discuss each one and note some of the things we love and some of the things you should be aware of before purchasing.
The yard of our house, The Arched Manor, has an ample amount of bushes and hedges that need trimming quite often (always a challenge to keep up with this throughout the busy summer months).  I used to have a 10 year-old corded electric hedge trimmer. Yes, you read that right…corded. Our driveway is about 200 feet long, so daisy-chaining extension cords to reach the bushes by the entrance got real old, real fast.
A battery-powered hedge trimmer is definitely the way to go, and the Green Machine 62V Brushless 25" Hedge Trimmer does not disappoint.  First impressions are that this thing is big – much larger than my previous trimmers.  So if you have large hedges or bushes, the longer blade would be beneficial and could save you some time when cutting. However, if you have small bushes, the larger blade could be hindersome, so keep that in mind.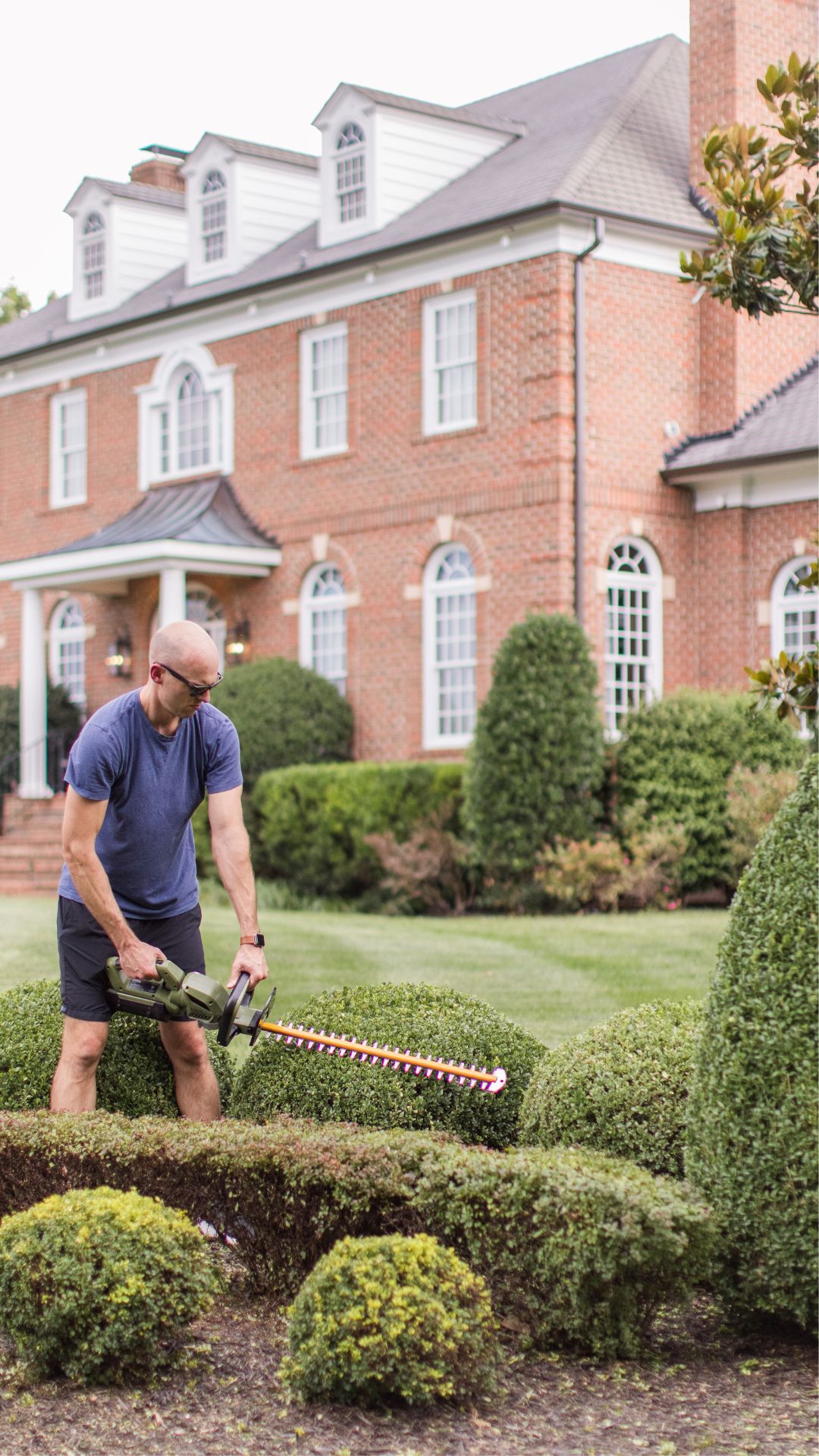 The cutting power of this unit is fantastic – it never showed signs of being strained when cutting even the thickest boxwoods.  There is a toggle for the two modes, "Econ" and "Sport", but I stuck to the "Sport" mode for my trimming. I'm sure it drains the battery faster, but the battery life on this is so good it really isn't an issue for most home-owners.  
One thing to keep in mind too about this unit is that it is on the heavier side for a hedge trimmer. Bush trimming often requires a lot of upper body strength and awkward leaning over and/or bending, and a lightweight unit is preferred for that type of work. The Green Machine hedge trimmer will give your biceps and forearms a good workout, especially if you have a ton of bushes like we do. Not a deal breaker for us – we like the long blade and power of this unit and prefer that over a lighter weight unit. It also has a 3-position handle that you can rotate to make cutting vertical surfaces a bit easier.
I'm just going to say it – this is my favorite tool from Green Machine. The machine is surprisingly lightweight, even with the battery installed, and the size seems just right.  What blows me away though (pun intended) is the incredible blowing power. It's by far the most powerful leaf blower I've ever used, and the adjustable speed knob  is a nice touch – especially for jobs like blowing grass clipping out of mulch beds where you don't need hurricane force.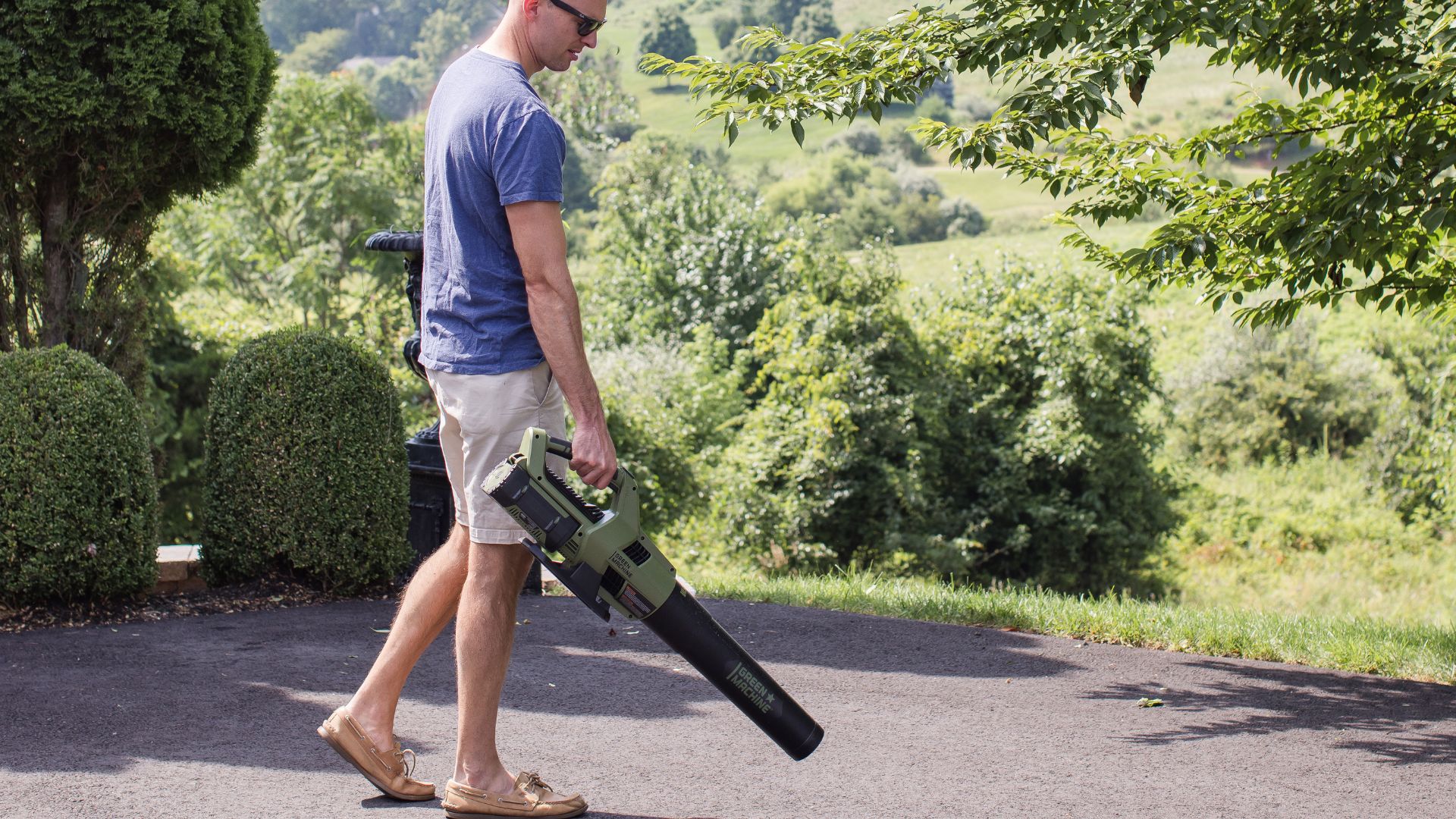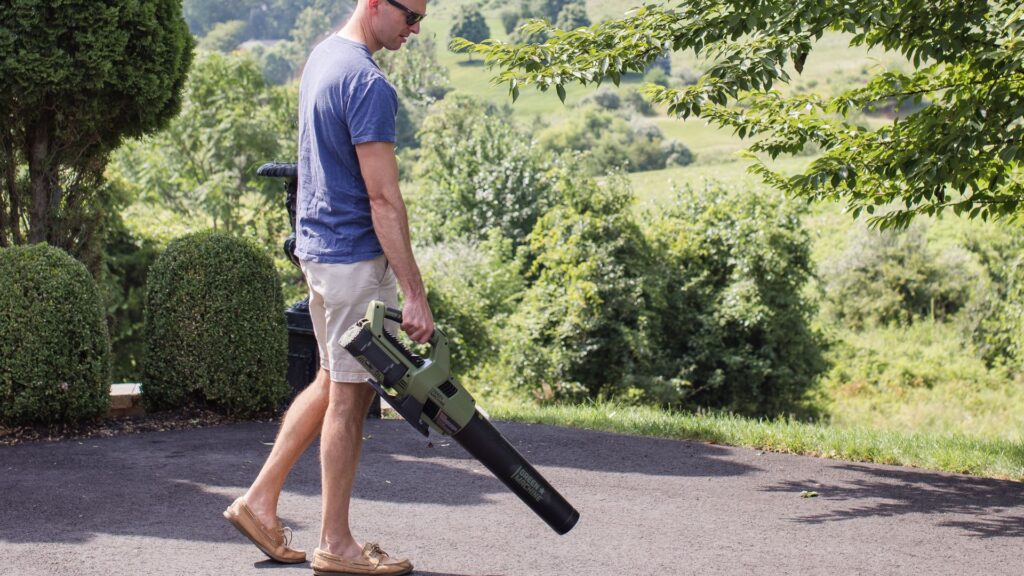 Pressing the turbo button kicks this thing into overdrive and packs a serious punch. It's addicting!  They claim the speed is 123MPH and I have no reason to argue. Battery life is in-line with the other Green Machine tools – you should at least get 60 minutes of run-time using it at its highest setting, and if you go lower, you can get 95 minutes. 
There are so many uses for a leaf blower in our yard and this blower handles them all with ease.  Also, these machines are so powerful that Green Machine offers DIY plans to make a hovercraft using two of these blowers. You can get the plans here.  Should we do it? Let us know in the comments below!
People are very divided on electric chainsaws, and we get it, it just doesn't feel natural to have so much power with so little fuss. It's similar to driving a Tesla – you just expect a lot of fanfare from the car when you accelerate that fast, but it's eerily quiet.  Same goes for this chainsaw from Green Machine – it works incredibly well without the fanfare of a gas engine. 
We had a pine tree that died in our backyard, and this was the perfect opportunity to test out this chainsaw. Setup is simple – just add chain oil (not included with the tool), pop a freshly charged battery in, and it's ready to go. Our tree was about 12 inches in diameter at the base and roughly about 20 feet high. This chainsaw took it down easily, and I did not have any issues with the chain falling off (which I did with my old Ryobi chainsaw).  I had to fill up the oil reserve once during the job, and was able to get the job done with only one battery!
Pro Tip – make sure to brush out the leftover wood dust and chips from the blade area right after you finish – if left, it will harden and be much harder to remove.
Of all the battery operated tools from Green Machine, this was the one that I was most skeptical about. Lawnmowers take a lot of power to operate, and adding the self propelled feature seems like it would drain the battery even faster. But this lawnmower surprised me – in a good way – with its power and battery life.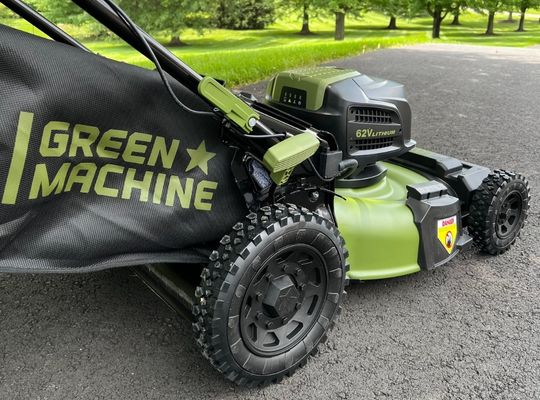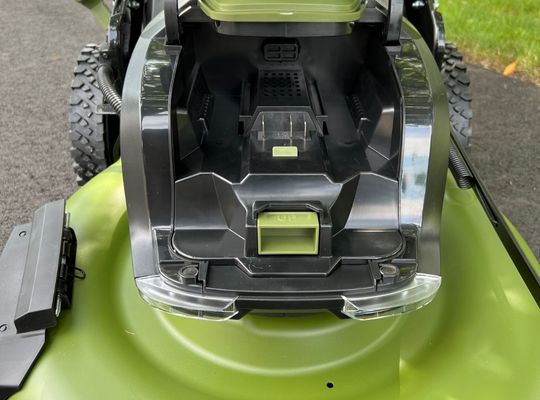 One of the coolest features of this mower is the one-bar adjuster for height. Normally, lawn mowers have one height adjuster per wheel, or in some cases two adjusters (one for the front wheels and one for the back wheels).  Having just one bar that was easy to use and actually worked, was a great feature that I was not expecting. 
The self propelled feature is nice to have, especially if your yard is hilly.  However, there is room to improve this functionality in the next model. I prefer lawnmowers with the double handle controls – one for the blade engagement, and one for the self propel.  This allows you to easily start or stop the self propel feature without moving your hands from the bar, and it allows you to use the self propel without having the blade engaged.  
Love all these tools, but no tool is perfect, and hopefully the information above helps you in your decision making process.  Overall, my favorite tool in this set is the leaf blower. The power and lightweight feel just can't be beat.  The hedge trimmer is a close second, but it is larger and heavier, and my arms did get a bit tired after trimming a few bushes.  The chainsaw proved its weight in gold, and easily took down my dead pine tree in the backyard. No fuss, no muss, which is exactly what you want from a chainsaw!  The lawn mower proved that these machines CAN be battery-powered and still have the same strength as a gasoline engine.
One tip if you purchase one or more of these tools – make sure you buy a spare (or even a third) battery. This will prevent you from having to stop work to wait for a battery to recharge.
I'm excited to test these tools over the next few years to see how they hold up, but all-in-all I'm really impressed with Green Machine and these quality tools!
Frequently Asked Questions
What company owns green machine?
Green Machine's website says they are owned by DAYE North America, based in Charlotte NC. 
Where are Green Machine products made?
Green Machine products are manufactured within the United States of America. 
Do Green Machine tools have a warranty?
Yes, Green Machine products come with a 5-year limited tool warranty and a 3-year battery warranty. 
Where can I buy Green Machine tools?
Green Machine tools are sold exclusively at The Home Depot. 
Is Green Machine the same as Ego?
No, Green Machine is a different brand and manufacturer than EGO. 
Do all Green Machine tools use the same battery?
Yes, all the Green Machine tools use the same 62V battery. However, there are two versions of this - a 2.5Ah and a 4.0Ah.  
How long to Green Machine batteries last?
Battery life is determined by many factors including temperature, battery age, the tool it's being used in, etc. However, we have found the battery typically lasts between 30-75 minutes. 
How long does it take to charge a Green Machine battery?
We have found it takes about 30 minutes to fully charge.