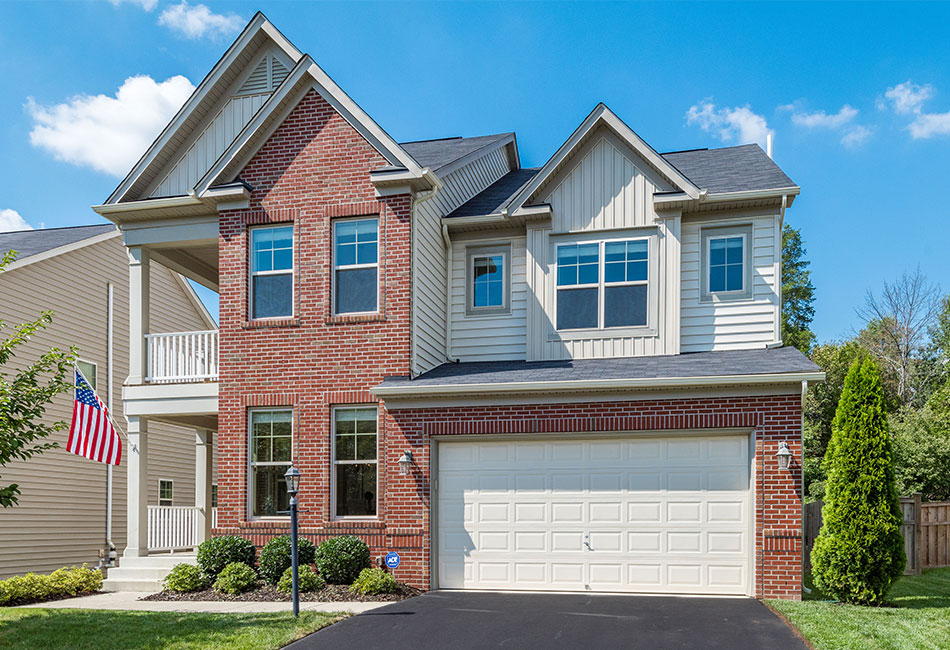 Our first home together was a brand-new house by DR Horton – it was already built and finished and was the last one on a secluded street. We fell in love with the house, even though we knew we had a lot of work ahead of us to make it "our style". It had cherry wood floors, beige carpet, cherry cabinets, dark granite, and beige paint on the walls. We moved in on a cold day in February and immediately started painting – the first project of many in our 6 years living in The Sweet Suburban!
In the coming weeks, we will be sharing the home improvement projects that we tackled and the DIY tips we learned along the way. It's hard to believe we took on as many projects as we did – here is a list of what we accomplished:
Renovated the kitchen to include a new (larger) island, painted cabinets, installed a new backsplash, lighting, wine fridge, and quartz countertops.
Replaced all the flooring on all three levels.
Installed recessed lighting in every room.
New screened-in porch with fireplace and TV.
Installed a two-sided fireplace (between family room and screened in porch).
Installed a coffered ceiling in the master bedroom.
Upgraded a bedroom with a plank wall, crown molding, and custom light.
Upgraded another bedroom with shiplap, crown molding, and custom closet organization.
Painted every room! Bye bye beige paint.
As I said earlier, this was our first house together and we have a LOT of good memories here. We were definitely sad to leave the house, but very excited to dig our claws into The Arched Manor. We get asked all the time why we left a house we put so much work into, and the answer is simple. We ran out of projects! We love to design and renovate spaces, and we came to a point where it did not make sense to put more money into the house when we knew it was not our "forever home". We completed all the big renovation projects and anything further would not help the resale value and would only make sense if we knew we would stay there forever. We knew we wanted a bigger yard, a bit more space, and enough projects to last us for years to come. Our good friend and Realtor, Gayle Bailey, worked with us for 8 long months to secure The Arched Manor and then get The Sweet Suburban sold (which he did in under 24 hours!). There is a great new family enjoying the house now, but we still have our blood, sweat, and tears in the property – it's fun to go back through the pictures and see how much we did to our first home together!