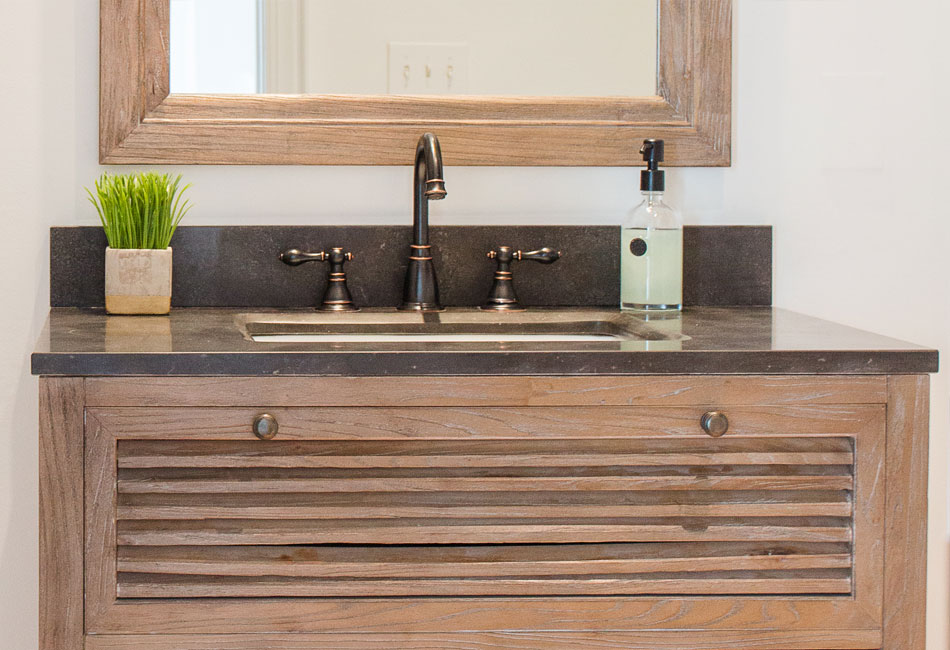 On our first visit to the house, the powder room was mostly empty – only a nasty, off-white toilet remained. The vanity unit, mirror, and lights had been ripped out – the existence of the previous vanity was only visible by the outline of the old, pink paint. During the 8 months of trying to acquire the house, the seller had taken the house off the market and painted the entire place. They also put in a builders-grade vanity and mirror to make the room functional. We were not thrilled, since it meant that the home became just a bit more attractive to other potential buyers, and we knew that it would be one more thing we would have to rip out if our offer was accepted. Spoiler alert – they eventually accepted one of our offers…and this cheap-o vanity was one of the first things to go, only to be replaced by a true beauty!
Other changes to the powder room include:
Ripping out the current tile and replacing it with matching red oak that occurs throughout the rest of the first floor.
Added the custom baseboards that are also throughout the rest of the first floor.
Painted all of the walls and trim white, and the door black. (You can find the paint colors we used here)
Installed cool black and brass sconces on the wall.
Added a new black towel rack and toilet paper holder.
Bought a new toilet! (goodbye old off-white can!)
Hung up some beautiful artwork.
While we plan on eventually adding trim or wallpaper down the road, we are very happy with the changes we have made so far!
Feast your eyes on some of the before and after pictures below, and if you have questions or comments, please post in the comment section below!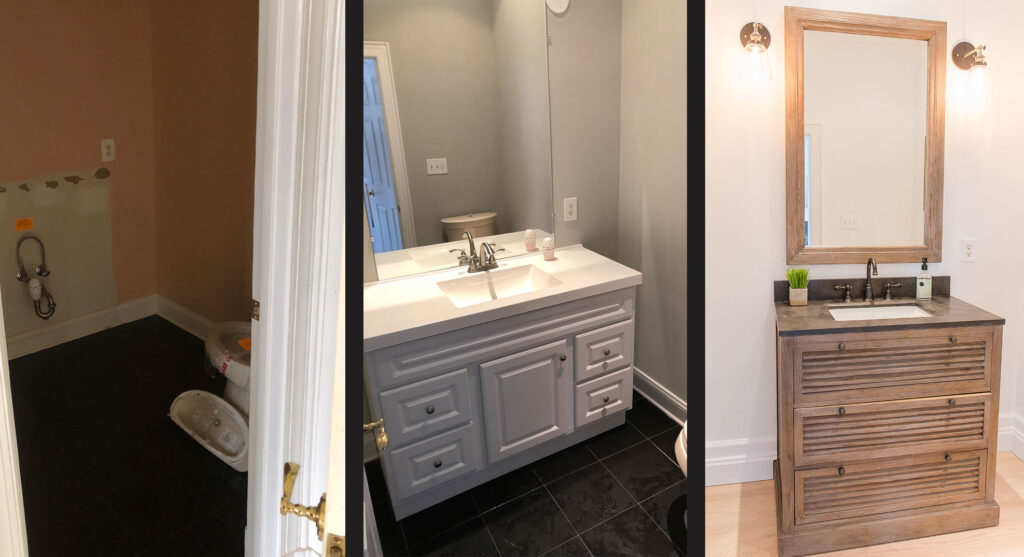 ---
Disclosure: We are happy to share products and links with you! Some of the links in this post are affiliate links and if you use them to make a purchase, we may earn a small commission on the sale.  This helps us fund the reoccurring fees and expenses that go along with running a blog site.
---
Shop this room