We announced in a blog post back in early March that our next project would be our home office (currently occupied by John, but we will see for how long – ha!).  We are so excited to announce that it is complete! We are both surprised and proud that we were able to complete this home office renovation in less than 2 months. But, I guess, when you work from home, you are a little more eager to finish up your work space. 
There was a lot of change created from what was a white room with a lot of windows. The biggest being the new built-ins (yay storage!) and the color. So let's dive right into the details!
Add a header to begin generating the table of contents
The biggest change, and one of the driving factors in choosing the home office renovation as our next one, is our new built-in cabinets (step-by-step instructions on how we built them here). This home office did not have any storage, and while yes, we could have purchased some cabinets, we felt like the best move was to build custom cabinetry tailored to the dimensions of the space. 
We first started by installing the lower cabinets. We purchased these cabinets from CliqStudios in the Austin style. They don't offer any unfinished cabinets so we purchased white ones and then painted over them. Yes, we could have built our own cabinets, but this project would have taken much longer. Time is money, friends! 
Once the lowers were installed, it was time to add the countertop. We toyed with the idea of doing stone or something similar, but also felt like that would look too much like a kitchen or bar area. We decided on going with butcher block because it was the most cost-effective option and it was in-stock at our local Home Depot. We shared an installation tip here on how to make sure you achieve a tight fit against a bowed wall!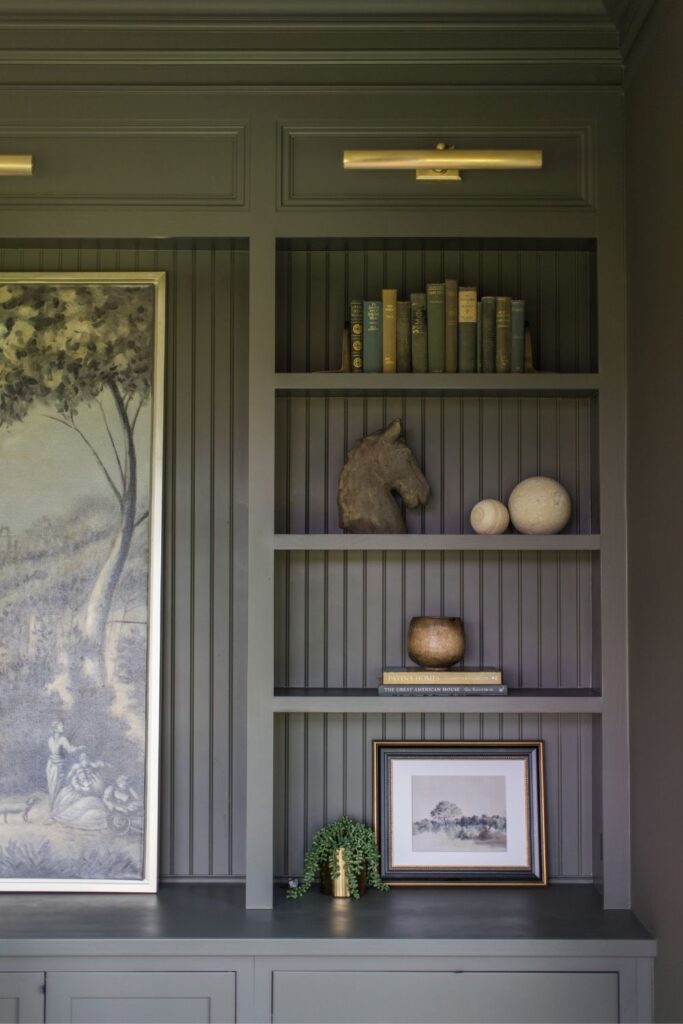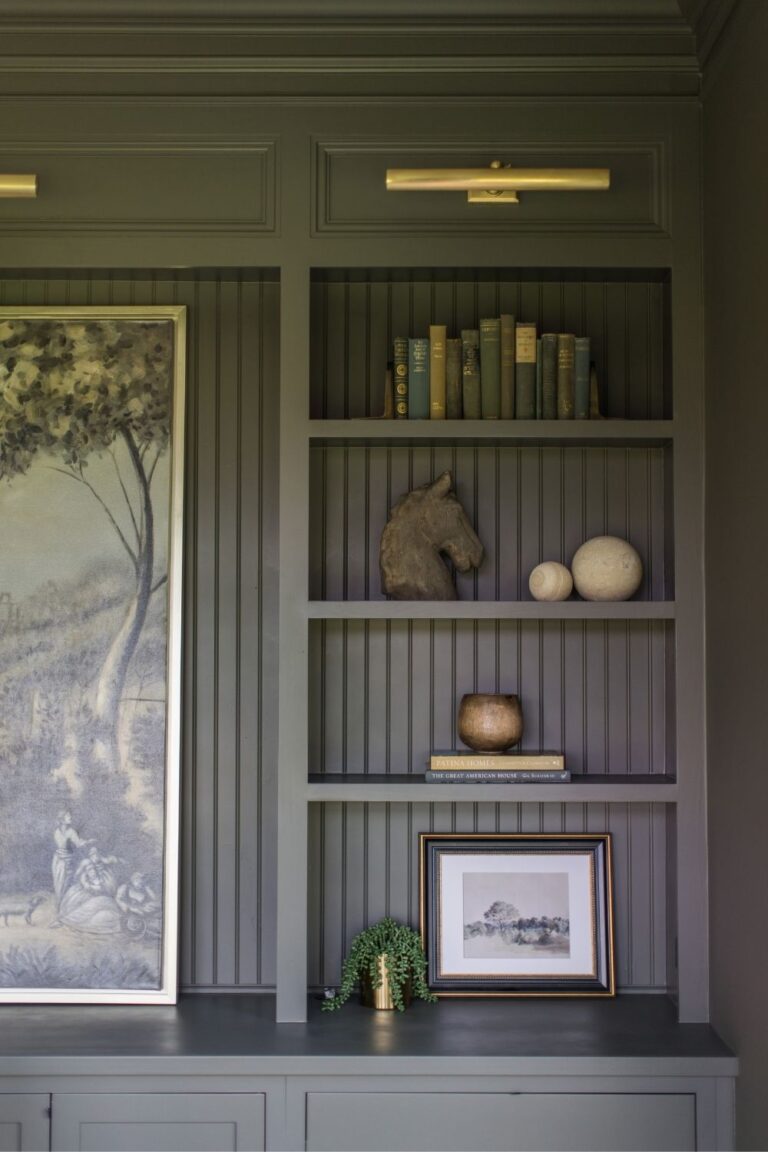 We then built the shelving units that sit on top of the countertop using cabinet grade plywood, screws, and wood glue. We settled on 2 shelving units on the sides and a larger display area in the middle where we could add a large piece of art. We then constructed inset boxes on top of each area where we could install picture lights to highlight each of the areas. As a last minute decision, we added bead board to the back of the shelves to add some dimension! For the face frame, we went back and forth on using 2" vs. 3" trim boards. Our initial rendering used 3" trim boards but after seeing these in the space, we decided the 2" boards looked better. We secured these to the cabinets using screws and wood glue, and used wood putty to smooth the seams and screw holes.
Last but not least, we finished the built-ins with some baseboards and crown molding. In our opinion, these two elements are what truly give it that built-in look because they are carried around the rest of the space as well.
What is it they say about hardware? It is the jewelry of a room? If that is true, we would have to agree! Not only do we have new hardware on the cabinets (yet to be delivered, but details below on what we chose), we also added new knobs on the french entry doors as well. This home office renovation is soon to be dripping in diamonds (figuratively – ha)!
You may have noticed in our pictures that the cabinet hardware is nowhere to be seen – we can thank the supply chain for that. However, we can still share the details on what will *hopefully* be installed soon. When it comes to cabinet hardware, we love to mix styles and go for different hardware on doors and drawers. You may remember we did this in our pantry and our dry bar. What we are excited about in this renovation is that on the cabinet doors, we went with these aged brass latches instead of knobs. Also, while we love cup pulls, we opted for these beautifully unique 8-inch wood pulls with back plates for the drawers. 
As mentioned above, we also took this as an opportunity to start the venture of finally replacing all the door hardware in our home! We swapped out our old and scratched lever handles to these new Nostalgic Hardware knobs. The doors to the office are push only so we installed the double dummy door version in the antique brass finish. Also, one thing to remember when you switch out your door hardware is that you will most likely need new hinges to match. If you give a mouse a cookie…amirite?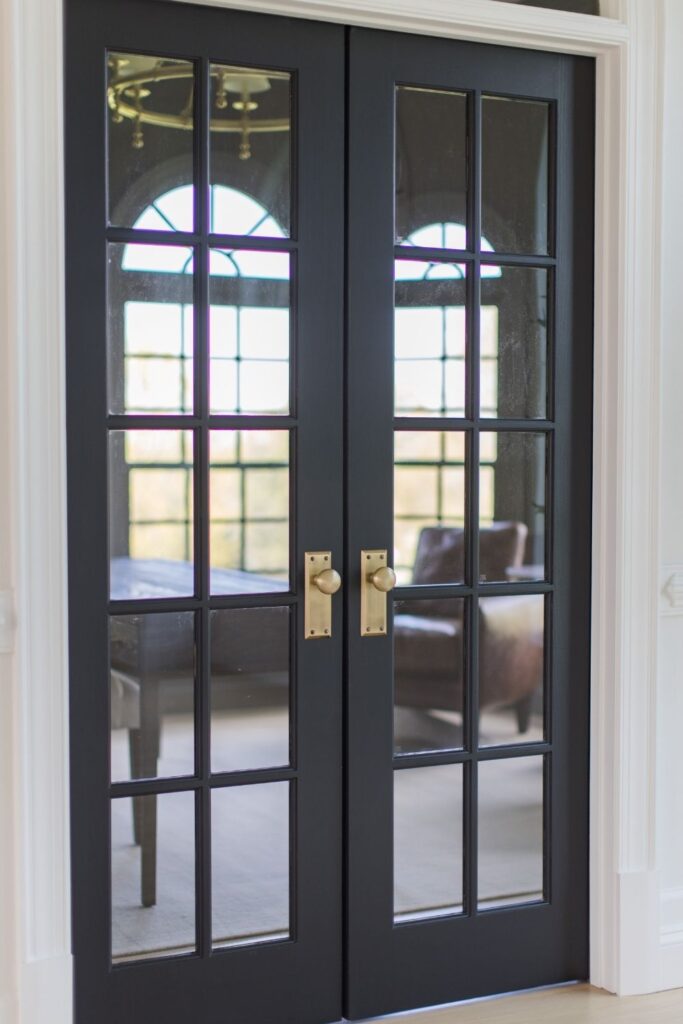 Apparently we are into painting color on our walls now, which surprised even us! Between our last renovation, our dining room, and this one, we are saying "goodbye" to our white walls! Just kidding, we are only going to sprinkle it in here and there, but we will always love our white and bright walls. 
The overall look we were going for in this home office renovation was a dark, library look – masculine and moody. It is a bold choice, but we are so happy with it. The dark color is balanced well with the lighter floors, ample natural light from the windows, and the fact that we kept our ceiling white. 
We also decided to paint all the trim, including our windows, the same color (lots of comments on this on Instagram, but we have zero regrets). 
Oh yeah, I guess it would be important to tell you what color we went with! You are looking at Sherwin Williams "Roycroft Bronze Green" and that title perfectly describes it – it is a dark green with warm bronzy/brown undertones. AKA perfection. The walls use a matte finish and the trim and built-ins use an eggshell finish (slight sheen).
We ended up purchasing only a few key pieces for this space because it is not that large, and we were building the biggest piece of furniture in the room, the built-ins! Here are the furniture items we did purchase for the home office renovation:
We decided on the French Contemporary Desk from Restoration Hardware as its replacement. This desk did not disappoint and loved how they described it on the website "simple silhouettes and refined restraint". Previously, John had a beautiful raw edge table that he was using as a desk, but unfortunately it did not match the aesthetics of the new space. We are repurposing it as a new work space for our kiddos in our playroom!
When we decided on a "classic library look" for the office, we knew we wanted leather chairs for the space. There are an overwhelming number of shades of leather and also different styles. Do we want nail heads? Tufting? Recliners? All of these were things we talked about (we are really fun to hang out with – haha) and here is a roundup of all the leather chairs we considered for this room. We ultimately decided on the Kenley Leather Chair from Arhaus, which has the perfect rich color and a classic, yet modern (clean lines) shape. Also, who are we kidding, it was also able to ship in a reasonable amount of time, which these days, is hard to find.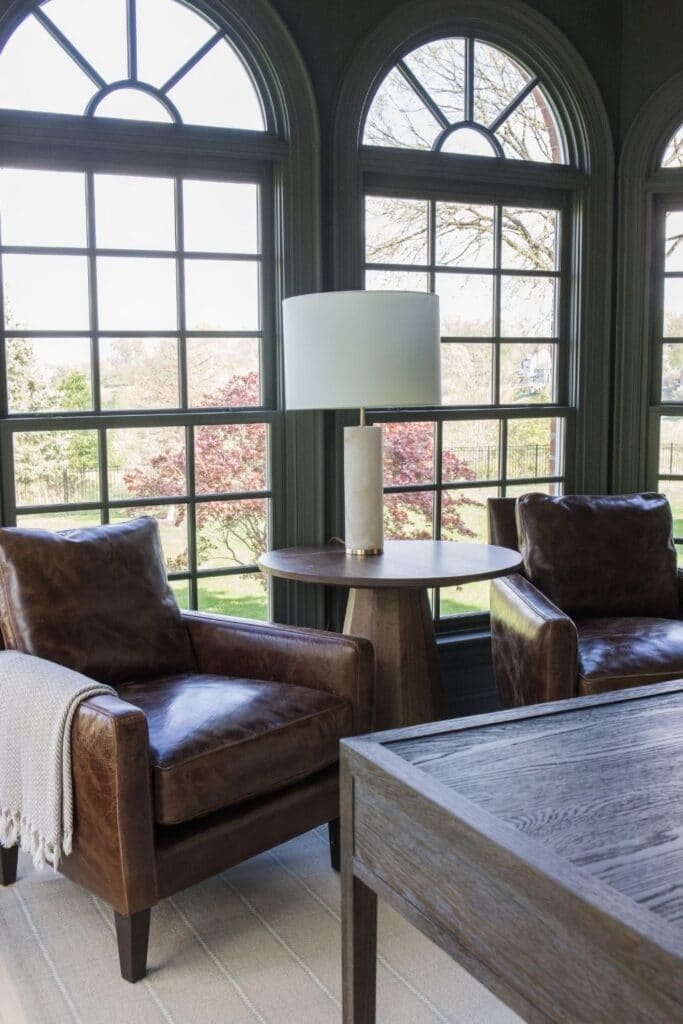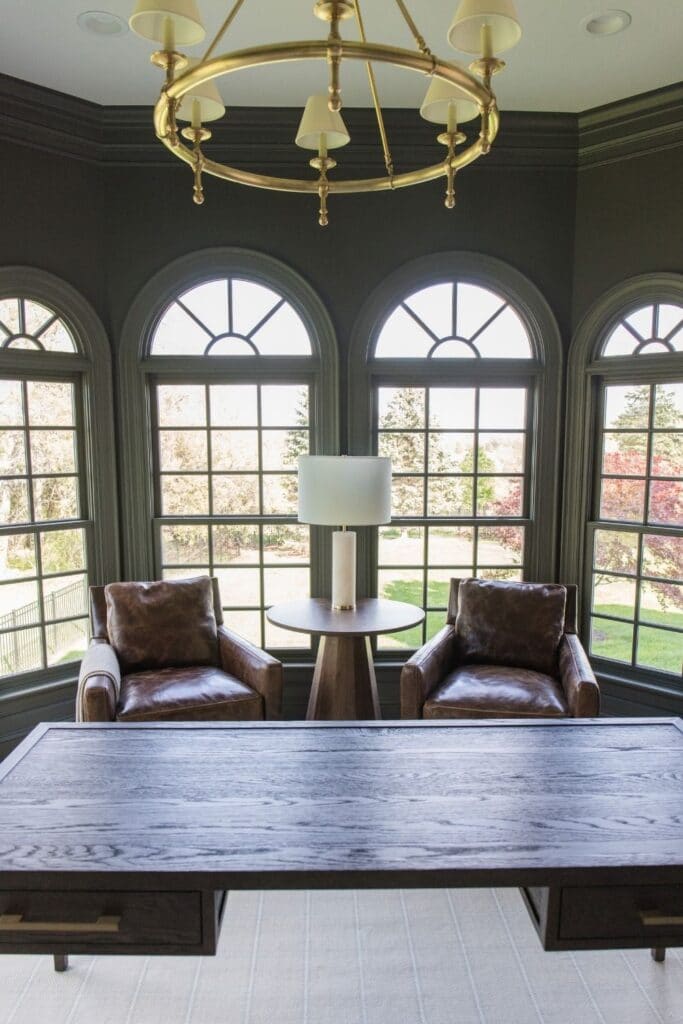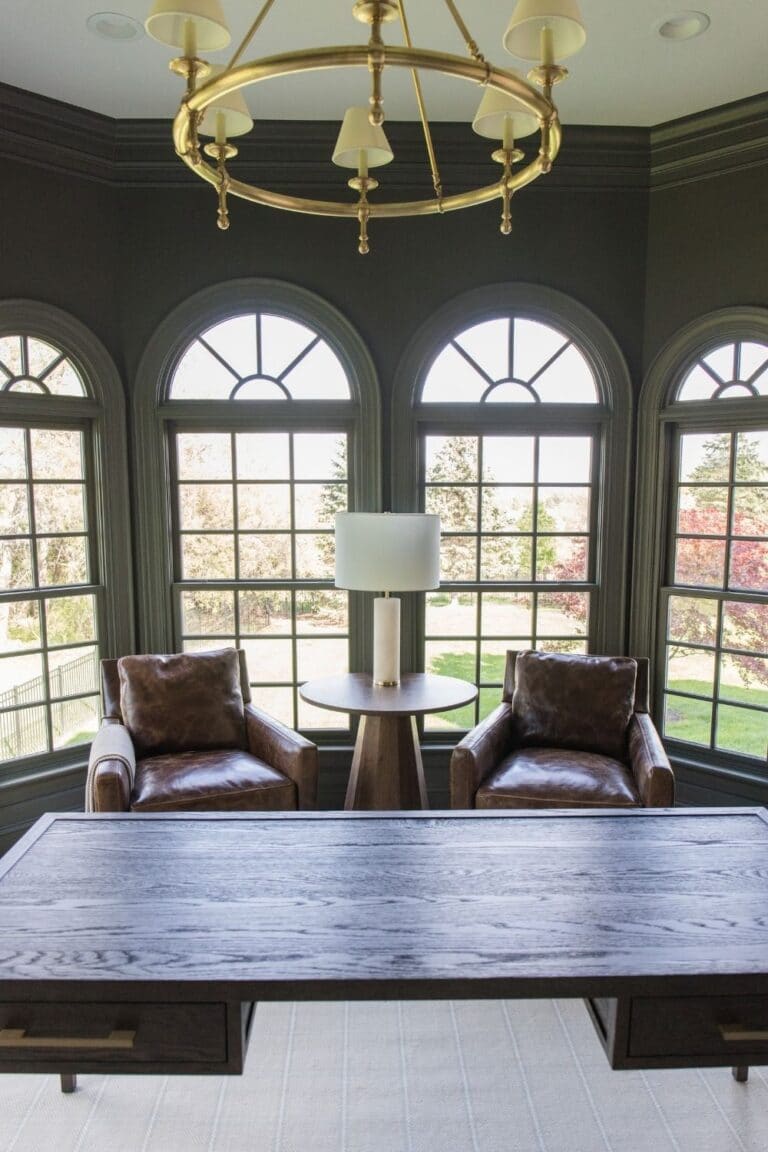 We wanted a table between the two leather chairs so we had a place to put coffee or set down other items. We were looking for something substantial enough to hold a lamp and have enough room for all the stuff we may set down. Cue light bulb! Let's do a nesting table! The top table can support a lamp and the bottom table would be perfect for coffee mugs! This lavastone nesting table from our online shop was the perfect fit. We loved that it wasn't wood so we wouldn't have to have any competing warm tones between the chairs, the desk and this table.
Keeping with the classic library theme meant needing to incorporate plaid somewhere in the room. The rug was the perfect place to do that. We fell in love with this plaid Erin Gates rug which has a very neutral and subtle pattern. Winner, winner chicken dinner! 
We wanted a landscape inspired piece of art for the office and wanted it to be the right scale for the center section of the built-ins. We came across this Chateau Lamonte piece by WildWood and loved the neutral scenery it provided. Also, it is HUGE. 
Lighting plays such a big role in the overall look of a space. It can totally set a mood by how bright a room is or by highlighting different areas with accent lighting. Here are all the fixtures we chose for the home office renovation:
Thank you all so much for following along on this renovation! Write a comment below or send us a DM on Instagram if you have any questions about the design. Now onto deciding our next project…